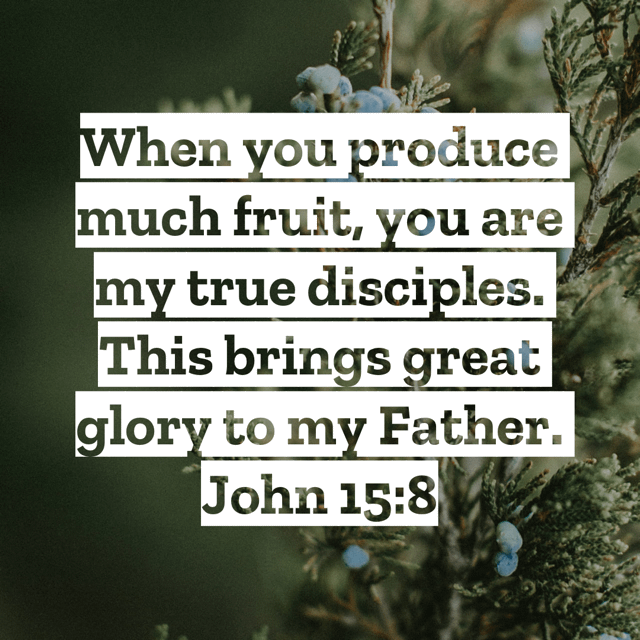 When you produce much fruit, you are my true disciples. This brings great glory to my Father.

John 15:8
Battle Drill Daily Devotional
Read John 15:1-17.
Would you like to make God smile? Then be fruitful by using the gifts he has given you!
Sometimes, we can be guilty of thinking God only smiles at us when we're doing "spiritual" things. Things like praying, reading our Bible, serving in church or listening to the sermon. But God smiles when we are being fruitful and using the gifts he has given us.
They may not seem very "spiritual." Perhaps it's counting money and completing a reconciliation. Perhaps it's cooking a meal for someone. Maybe it's making a phone call to someone you know is lonely. Maybe it's making some craft or colouring in a picture. It doesn't have to be "spiritual." If you are using the gifts and talents that God has given you, then that's worship and it will be fruitful. And God smiles as he sees you doing it.
Why? Because it brings glory to him! He's the gift-giver! When we do what we're created to do, God smiles, and you feel good doing it too!
I can testify that the best feeling comes when you use the gifts God has given you for his purpose and to bring him glory. May you find it's the most exciting thing in your life too!
Think It Over
Think about the following:
What gifts or talents has God given you (everyone has at least one!)? How are you using them to bring glory to God?
Play today's audio teaching:
Share hope, prayer and encouragement with others, by commenting and talking about it below.
Image Copyright © Easter Knowlen Photography
Unless otherwise indicated, all Scripture quotations are taken from the Holy Bible, New Living Translation, copyright 1996, 2004, 2007, 2015 by Tyndale House Foundation. Used by permission of Tyndale House Publishers, Inc., Carol Stream, Illinois 60188. All rights reserved.