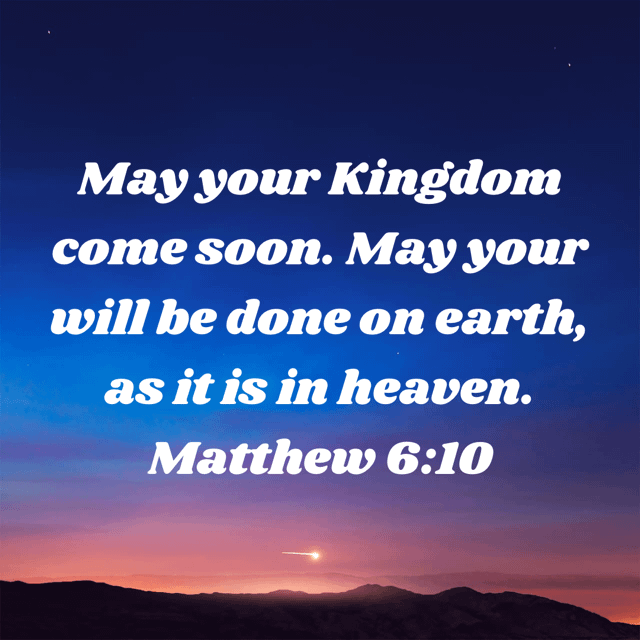 May your Kingdom come soon. May your will be done on earth, as it is in heaven.

Matthew 6:10
Battle Drill Daily Devotional
Your Heavenly Father loves you. Why is this important? We're looking at five different reasons – we discovered three yesterday, and we're looking at the final two today.
Read Matthew 6:5-18.
Love is why Jesus died. As we said yesterday, you and I – in common with all human beings – often let our heavenly Father down. Nothing sinful or evil can exist in God's presence. And so God needed a solution to our sin. God's love moved and motivated him to offer that solution: the birth, life, death and resurrection of his one and only Son, Jesus Christ. If we trust in him, then God promises – in love – that we will never have to bear the penalty for the wrong we have done. We will be acquitted by Christ's sacrifice! And through his Son, our Father in heaven's Kingdom will come and his will will be done on earth just as it is in heaven today.
Love is why we receive eternal life. Because our Father in heaven is love, he will express that love forever. There will never be a moment in your life when your heavenly Father does not love you. Some later texts of this prayer add the following words to emphasise God's eternal nature:
For yours is the kingdom and the power and the glory forever. Amen.

Matthew 6:13b
Think It Over
Think about the following:
How can a person know and experience our Father in heaven's eternal love?
Play today's audio teaching:
Share hope, prayer and encouragement with others, by commenting and talking about it below.
Image Copyright © SundaySocial.tv
Unless otherwise indicated, all Scripture quotations are taken from the Holy Bible, New Living Translation, copyright 1996, 2004, 2007, 2015 by Tyndale House Foundation. Used by permission of Tyndale House Publishers, Inc., Carol Stream, Illinois 60188. All rights reserved.