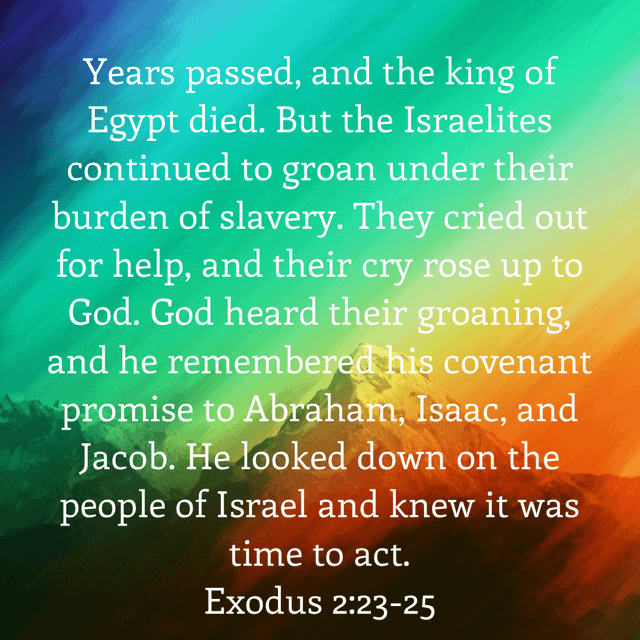 Years passed, and the king of Egypt died. But the Israelites continued to groan under their burden of slavery. They cried out for help, and their cry rose up to God. God heard their groaning, and he remembered his covenant promise to Abraham, Isaac, and Jacob. He looked down on the people of Israel and knew it was time to act.

Exodus 2:23-25
Battle Drill Daily Devotional
Read Exodus 2:11-25.
Do you ever find yourself in a hopeless situation and wondering if praying about it will actually work?
When all around you seems hopeless, when God seems silent and uninterested in your situation, it's tempting to think that praying is a waste of time.
It would have been tempting for the Israelites to look at their situation – the might of the Egyptians, the hundreds of years of slavery they had endured – and to think, God's forgotten us. Who do we think we are, even thinking God would be interested in our plight?
But prayer works because God is in control and he always comes through on his promises. He had promised the Israelites they were his chosen people. His power and authority were greater than the Egyptians, and now was the time for him to act.
In his wisdom and goodness, he sent Moses to be their leader and to lead them out of Egypt and slavery.
Your situation is in God's control. You may not be able to change it. But he can.
Pray to him. Leave your situation with him. He's in control. He knows best and he will answer at the right time and in the right way.
Don't assume that God's dismissed you from his mind,
Don't assume that God's forgotten to be kind;
For no matter what you do, his love still follows you;
Don't think that you have left him far behind.

For his love remains the same,
He knows you by your name,
Don't think because you failed him he despairs;
For he gives to those who ask
His grace for every task,
God plans for you in love for he still cares.

John Gowans (1934-2012)
© The General of The Salvation Army.

Used By Permission. CCL Licence No. 30158
Copied from The Song Book of The Salvation Army
Song Number 490
Think It Over
Think about the following:
How do your prayers reveal whether you truly believe God is in control of the universe?
Play today's audio teaching:
Share hope, prayer and encouragement with others, by commenting and talking about it below.
Image Copyright © Church Motion Graphics Inc.
Unless otherwise indicated, all Scripture quotations are taken from the Holy Bible, New Living Translation, copyright 1996, 2004, 2007, 2015 by Tyndale House Foundation. Used by permission of Tyndale House Publishers, Inc., Carol Stream, Illinois 60188. All rights reserved.