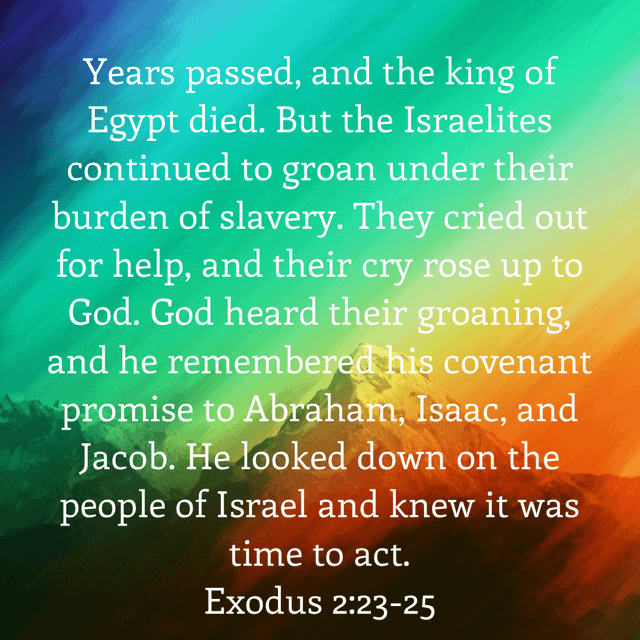 Years passed, and the king of Egypt died. But the Israelites continued to groan under their burden of slavery. They cried out for help, and their cry rose up to God. God heard their groaning, and he remembered his covenant promise to Abraham, Isaac, and Jacob. He looked down on the people of Israel and knew it was time to act.

Exodus 2:23-25
Battle Drill Daily Devotional
This week we hear God's people cry out for help and God's answer through his covenant, reminding us that God knows the best time to act. You can catch up on yesterday's sermon, which began a new series, called Together. It's called Praying our Fears Together and can be found here.
Read Exodus 2:11-25.
What do you do when you feel hopeless? Surrounded by worry or conflict, or perhaps plagued by depression and guilt?
The Israelites – God's people – were in slavery in Egypt. Even the death of the king had not freed them from their oppression. They were at rock bottom. Hopeless.
In their suffering, they looked up to God. They groaned and cried out for help. They begged God to fulfil his promise to bring them out of Egyptian slavery.
Some problems can only ever be overcome through prayer. Institutional oppression like slavery could only be overcome through God's intervention. You may have deep-rooted problems, or a sudden, deep crisis. That requires persistent prayer, speaking over and over to God. The God, as Exodus tells us, that sees your hopelessness and is ready to act at the right time.
If you're feeling hopeless today, don't despair. Instead, look up to God and reach out to him in prayer. He is listening and ready to answer.
Think It Over
Think about the following:
Have you ever wondered if God has forgotten you in your troubles? Can you look back and see his hand in your situation?
Play today's audio teaching:
Share hope, prayer and encouragement with others, by commenting and talking about it below.
Image Copyright © Church Motion Graphics Inc.
Unless otherwise indicated, all Scripture quotations are taken from the Holy Bible, New Living Translation, copyright 1996, 2004, 2007, 2015 by Tyndale House Foundation. Used by permission of Tyndale House Publishers, Inc., Carol Stream, Illinois 60188. All rights reserved.