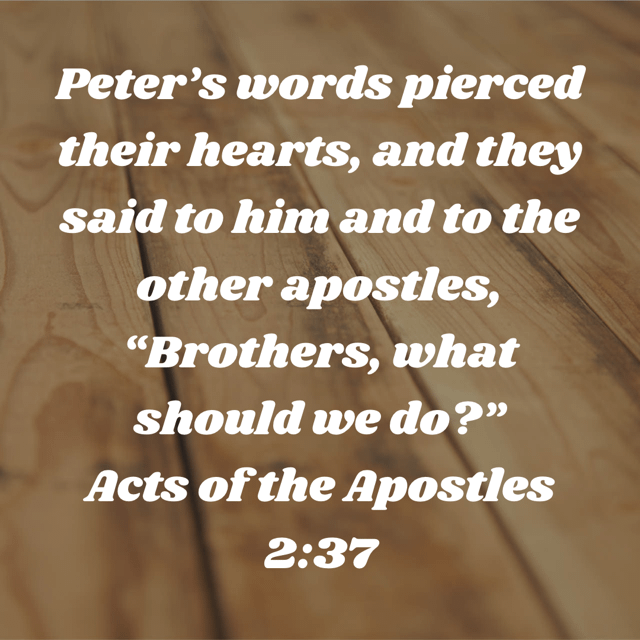 Peter's words pierced their hearts, and they said to him and to the other apostles, "Brothers, what should we do?"

Acts 2:37
Battle Drill Daily Devotional
Read Acts 2:14-41.
What happens after you read God's Word or listen to a sermon? Are you moved to do something or does life carry on as normal?
Peter had preached a Spirit-filled, powerful message. The people who heard it were deeply moved by his words and the truth behind them. The message moved them to ask, "What should we do?"
When we read God's Word or listen to a sermon, our response should be the same: "What should we do?" We don't read the Bible for information. A sermon isn't just for recounting what the Bible says. We need to apply God's Word to our lives and act on it.
To be sorry for our sins isn't enough. God's Word compels us to repent – to change our minds about what we have done – and to ask God for his forgiveness. Then we must live like forgiven people. God's Word encourages us to change the direction of our lives. We move from selfishness and rebellion against God to depending on Jesus for forgiveness, grace, guidance and for a purpose in life.
Have you heard God speaking to you through his Word as you read it? Have you heard God's voice through another as they proclaimed God's truth? Then ask God what you should do and follow through on it.
I then shall live as one who's been forgiven.
I'll walk with joy to know my debts are paid.
I know my name is clear before my Father; 
I am his child and I am not afraid.
So, greatly pardoned, I'll forgive my brother;
The law of love I gladly will obey.

I then shall live as one who's learned compassion.
I've been so loved, that I'll risk loving too.
I know how fear builds walls instead of bridges;
I'll dare to see another's point of view.
And when relationships demand commitment,
Then I'll be there to care and follow through.

Your Kingdom come around and through and in me;
Your power and glory, let them shine through me.
Your hallowed name, O may I bear with honour,
And may your living Kingdom come in me.
The Bread of Life, O may I share with honour,
And may you feed a hungry world through me.

William and Gloria Gaither
© 1981 Gaither Music Company/Adm. by Integritymusic.com, a division of David C. Cook, songs@integritymusic.com For the UK & Ireland. Used by permission.
Used By Permission. CCL Licence No. 30158
Copied from The Song Book of The Salvation Army
Song Number 850
Think It Over
Think about the following:
What has God been saying to you through his Word lately? What action should you take to follow through on what he's been saying?
Play today's audio teaching:
Share hope, prayer and encouragement with others, by commenting and talking about it below.
Image Copyright © Life.Church
Unless otherwise indicated, all Scripture quotations are taken from the Holy Bible, New Living Translation, copyright 1996, 2004, 2007, 2015 by Tyndale House Foundation. Used by permission of Tyndale House Publishers, Inc., Carol Stream, Illinois 60188. All rights reserved.