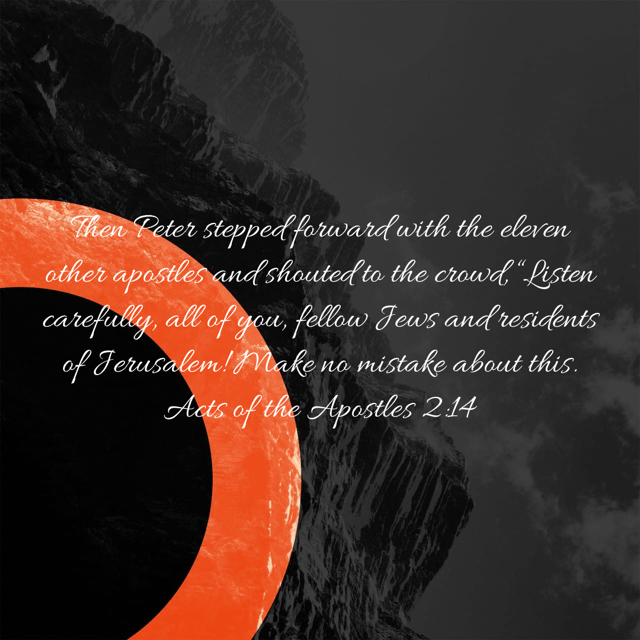 Then Peter stepped forward with the eleven other apostles and shouted to the crowd, "Listen carefully, all of you, fellow Jews and residents of Jerusalem! Make no mistake about this.

Acts 2:14
Battle Drill Daily Devotional
Read Acts 2:14-41.
Is that so-and-so? But he was such a terrible drunk! What's happened to him? And she was a terrible mother! What's turned her life around?
Finding God and turning to Christ often meant a complete change of lifestyle for early-day Salvationists. It still happens today. There are still soldiers joining our ranks around the world who have a life-changing testimony to tell.
In Acts 2:14-41 we find an apostle whose life has completely turned round in the space of just 50 days. Peter was such an unstable leader, even though Jesus had called him "the rock." In particular, his bravado as Jesus headed to the cross, blustering that he would never leave or forsake Jesus was his ultimate downfall. Hours later he denied even knowing Jesus and he was left feeling bitter and ashamed.
But Jesus had forgiven him and restored him, giving him a new chance to care for his followers and to build his church.
And here he is at Pentecost. This is a new Peter. No longer proud and full of bravado, but bold and humble in the power of the Holy Spirit. Suddenly, this bluff and gruff common fisherman was a powerful and dynamic preacher and speaker.
Maybe you feel that you have made so many bad mistakes in your life that God could never truly forgive you or make you in any way useful for his Kingdom. But no matter what sins you have committed, God can and will forgive you if you turn to him. He can work through anyone in powerful ways.
You can ask God for opportunities to use the gifts he has given you to serve him and in his Holy Spirit's power – just like Peter – you can take those opportunities with confidence. You will be amazed what God can do through you!
I am amazed
By the power of Your grace,
I am amazed 
That You took my sin and shame;
Restoring hope, restoring dignity:
Your grace covers me.

I'm overwhelmed
By Your love and goodness,
I'm overwhelmed
That You took my brokenness:
Amazing love, how can this be?
Your grace covers me,
Your grace covers me, oh.

Saving grace, washing over me;
Saving grace, that made a way for me:
I was lost until You rescued me, 
Your grace covers me.

Lara Martin (Abundant Life Ministries, Bradford, England)
© 2000 Lara Martin/Abundant Life Ministries/Adm. by  kingswaysongs.com.
www.kingswaysongs.com.  Used by permission.

Used By Permission. CCL Licence No. 30158
Think It Over
Think about the following:
Where do you see God's grace in your own life? What is God calling you to do in his name today?
Play today's audio teaching:
Share hope, prayer and encouragement with others, by commenting and talking about it below.
Image Copyright © SundaySocial.tv
Unless otherwise indicated, all Scripture quotations are taken from the Holy Bible, New Living Translation, copyright 1996, 2004, 2007, 2015 by Tyndale House Foundation. Used by permission of Tyndale House Publishers, Inc., Carol Stream, Illinois 60188. All rights reserved.