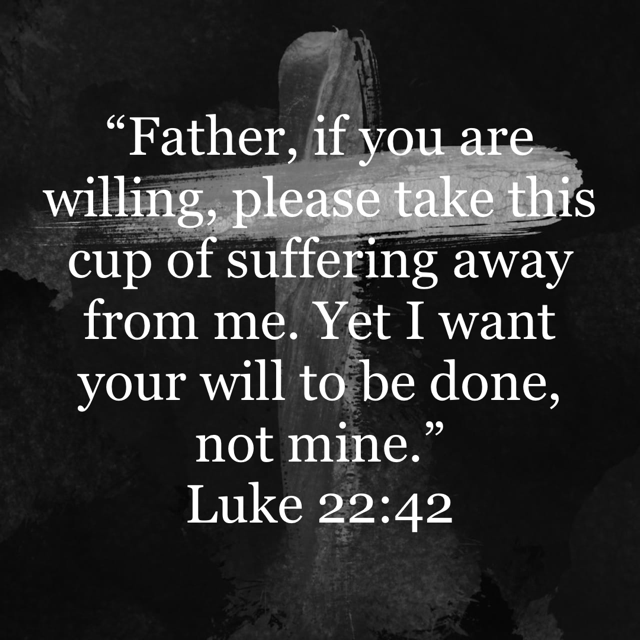 "Father, if you are willing, please take this cup of suffering away from me. Yet I want your will to be done, not mine."

Luke 22:42
Battle Drill Daily Devotional
Read Luke 22:39-46.
What do you say to God when you suffer a setback in your calling? Nothing? Thank you for the blessing? Or are you honest about how you feel?
Sometimes, we're guilty of telling God what we think he wants to hear. Something has gone wrong in our work for God, whatever that is. We've failed in some way. Or someone or something has hurt us. And we just grin and bear it, remembering all those Bible verses about perseverance. Or we remember to be thankful in all circumstances, so perversely we thank God for the problems we have.
Where did we get the idea this was the right way to pray? Not from the psalmist! He had no worries about offloading his pain, grief and anger on God. Not Job. When he lost everything – his family, his way of living, his home and his wealth, he let God have it with both barrels! He tore his robe in grief, shaved his head and insisted that God listened to his anguish, bitterness and complaint!
And Jesus – who we often say is our greatest example, which he is – doesn't hold back in expressing his heart to his Father. At his moment of greatest anguish, he expresses his feelings. Jesus knew he was about to suffer. He knew he was going to be isolated from God. He knew his mission was to take the sins of the whole world on himself. His prayer reveals his terrible suffering – "If you are willing, please take this cup of suffering away from me."
God wants you to express your emotions to him. Not just the positive ones, but the negative ones too. He can handle your grief, your pain, your anger, your fear and your disappointment. You can always be brutally honest with God.
Lord, I still believe in all you promised,
though I'm tired of hanging on.
Draw me to my knees so I'll be honest,
I'm still breaking to be whole.
So I come to you again,
yes, I come to you again.

You give hope and life to everyone,
you give dreams and grace where there is none.
Jesus, I'm free.
You give songs to the broken-hearted,
you take guilt from the heavy minded.
Jesus, I'm free.

Simon Parkin, Dan Boreham, Ed Hawkins & Mikey Randon
© 2005 Thankyou Music/admin. by worshiptogether.com songs excluding UK & Europe, admin. by kingswaysongs.com tym@kingsway.co.uk
Used by permission

Used By Permission. CCL Licence No. 30158
Copied from Songs of Fellowship Book 4
Song Number 1950
Think It Over
Think about the following:
What do you need to be honest with God about today? What stops you from expressing difficult emotions to him?
Play today's audio teaching:
Share hope, prayer and encouragement with others, by commenting and talking about it below.
Image Copyright © Church Motion Graphics
Unless otherwise indicated, all Scripture quotations are taken from the Holy Bible, New Living Translation, copyright 1996, 2004, 2007, 2015 by Tyndale House Foundation. Used by permission of Tyndale House Publishers, Inc., Carol Stream, Illinois 60188. All rights reserved.