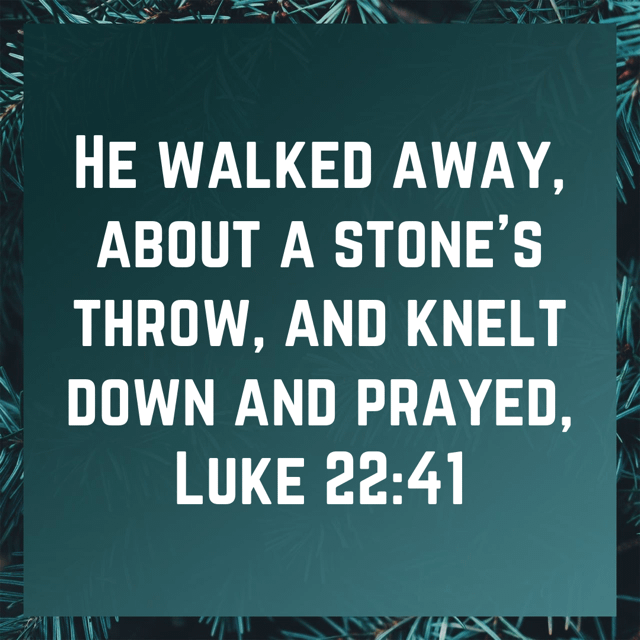 He walked away, about a stone's throw, and knelt down and prayed

Luke 22:41
Battle Drill Daily Devotional
Read Luke 22:39-46.
Where do you go when you pray? What's your posture? These things can help us pray as we seek God's calling on our lives.
Luke tells us that as Jesus prepared for the most difficult prayer time he ever had in his life, he walked away from his disciples. In other words, he ensured he would not be disrupted. He knew he needed quality, uninterrupted time with his Father. He needed to be alone with him.
His posture was important too. Jesus was about to ask God if it was possible for him not to go through the terrible agony – not just the pain of being nailed to a cross, but the horror of temporary separation from his Father – that he knew awaited him. But he had also chosen that whatever the answer, he would follow God's will in this moment. Kneeling to pray was a sign of his obedience and surrender.
When we come to pray – to commune with God – it is vital for us to find somewhere free of distraction. I have recently changed the way I spend my quiet time, to avoid the distraction of my computer and work. We may need to pay attention to our posture too. It isn't necessary for us to kneel in order to speak with God. But at times it might help. At other times, particularly if we are faced with the same temptation of sleep that Jesus' disciples faced in Gethsemane, then standing to pray might be more appropriate.
Wherever we are and whatever posture we choose, let's choose a posture of active listening for the call of God on our lives and a willingness to submit to his will, just as Jesus did.
Kneeling before thee, Lord, I am praying,
Claiming a closer communion with thee,
Longing to sever from selfish ambition;
Break thou each fetter and set my soul free.

Into thy hands, Lord, take me and mould me,
E'en as the potter handles the clay;
Make me a vessel fit for thy service;
Cleanse me and fill me, and use me today.

Jessie Caroline Mountain (1895-1981)
© The General of The Salvation Army.

Used By Permission. CCL Licence No. 30158
Copied from The Song Book of The Salvation Army
Song Number 599
Think It Over
Think about the following:
When you pray, do you move away from things that distract you? Do you always pray alone? Are you seated, standing or walking? What works best for you?
Play today's audio teaching:
Share hope, prayer and encouragement with others, by commenting and talking about it below.
Image Copyright © SundaySocial.tv
Unless otherwise indicated, all Scripture quotations are taken from the Holy Bible, New Living Translation, copyright 1996, 2004, 2007, 2015 by Tyndale House Foundation. Used by permission of Tyndale House Publishers, Inc., Carol Stream, Illinois 60188. All rights reserved.