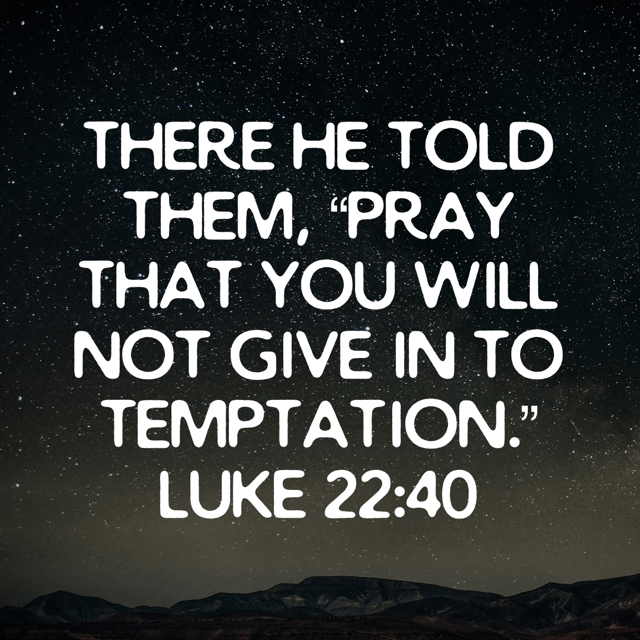 There he told them, "Pray that you will not give in to temptation."

Luke 22:40
Battle Drill Daily Devotional
Read Luke 22:39-46.
What do you do when you are tempted to resist or give up on God's call on your life? Rely on your willpower? Run away? Jesus encourages us to pray.
As Jesus readied himself to face his impending arrest, trial and death at the hands of the Romans and Jewish religious authorities, he was still thinking about his disciples.
He knew they would be commissioned to spread the Good News about him to the ends of the earth, teaching people to obey his commands and to follow his life example. But he also knew he was about to leave them and that their calling would be severely tested over the next hours and days. They would be tempted to reject his call, to run away and deny ever knowing him. They would face doubts – was Jesus, crucified on a cross like a common criminal, really Messiah?
Sometimes, we face temptation. Our calling can be disrupted by our circumstances. We are tempted to ignore it. We are tempted to run away from it. We are tempted to deny hearing God's clear voice. Jesus does not try to protect us from those temptations. Instead, he encourages us to face them head on with the spiritual weapon of prayer.
We never know what lurks around the corner. Surely the past fourteen months has proven that! We do know that answering God's call on our lives isn't easy. It often involves sacrifice as well as great blessing. The temptation is to say no. Prayer can help us prepare for victory over these temptations. Will you "pray that you will not give in to temptation" with me today?
Think It Over
Think about the following:
What has tested your faith during the lockdowns of the past year? Have you been fervently praying for victory?
Play today's audio teaching:
Share hope, prayer and encouragement with others, by commenting and talking about it below.
Image Copyright © @aussiedave
Unless otherwise indicated, all Scripture quotations are taken from the Holy Bible, New Living Translation, copyright 1996, 2004, 2007, 2015 by Tyndale House Foundation. Used by permission of Tyndale House Publishers, Inc., Carol Stream, Illinois 60188. All rights reserved.