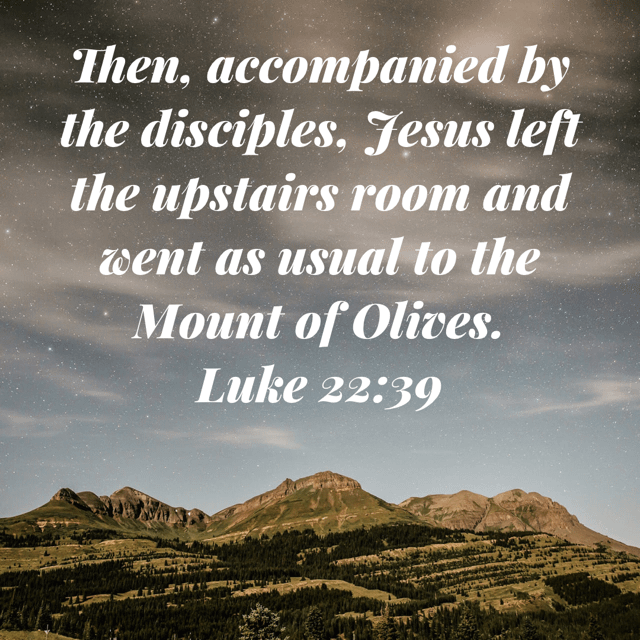 Then, accompanied by the disciples, Jesus left the upstairs room and went as usual to the Mount of Olives.

Luke 22:39
Battle Drill Daily Devotional
This week we focus on our willingness to obey God's call, in whatever form it might come, loosely based on material written by Captain Ian Standley and Cadet Miriam Smith and provided by the Candidates Unit. You can catch up on yesterday's sermon for Candidates Sunday, Captain Jonathan and Lieutenant Armour-Bearer here.
Read Luke 22:39-46.
Do you have a particular place you go to pray? A special spot where you often feel the presence of God?
At the opening of his account of Jesus praying in the Garden of Gethsemane, on the night of his arrest, trial and eventual death, Luke tells us he went "as usual" to the Mount of Olives, to pray.
Some of you may well have visited this place on a trip to the Holy Land. I am told the Mount of Olives was located just east of Jerusalem. It's southwestern slope is an olive grove called Gethsemane. From here, Jesus could see the whole of the city of Jerusalem, in full view.
It must have been a lovely place to pray. Jesus would have felt quiet and peaceful, being some way from the bustle of the city. But his vantage point would have given him a pointer for his prayers too – the people who lived and worked in Jerusalem, and the events he knew would unfold in the city in the coming hours.
Finding a quiet, secluded place like the Garden of Gethsemane can be difficult in our modern world. Our lives are full of noise. At home, many of us will have the television or radio on, or have our headphones in, just to get rid of the silence. If you've got children, I suspect that quietness and solitude seems an impossible dream! When you go out, almost every place seems to have background music playing. In some places, it seems beyond background!
However difficult it is, each of us needs to find a quiet place and time to meet with God. Jesus made it a habit. So should we. How can we hear God's call on our lives if we never find the time to be silently in his presence?
O Love, invisible before,
I see thee now, desire thee more;
When Jesus speaks thy word is clear;
I search his face and find thee near.

I come to thee with quiet mind,
Thyself to know, thy will to find;
In Jesus' steps my steps must be,
I follow him to follow thee.

Catherine Baird (1895-1984)
© The General of The Salvation Army.

Used By Permission. CCL Licence No. 30158
Copied from The Song Book of The Salvation Army
Song Number 615
Think It Over
Think about the following:
Where do you go to pray? Why is that place important to you? Is using that place to pray a good habit? Or do you need to find a new place?
Play today's audio teaching:
Share hope, prayer and encouragement with others, by commenting and talking about it below.
Image Copyright © YouVersion
Unless otherwise indicated, all Scripture quotations are taken from the Holy Bible, New Living Translation, copyright 1996, 2004, 2007, 2015 by Tyndale House Foundation. Used by permission of Tyndale House Publishers, Inc., Carol Stream, Illinois 60188. All rights reserved.