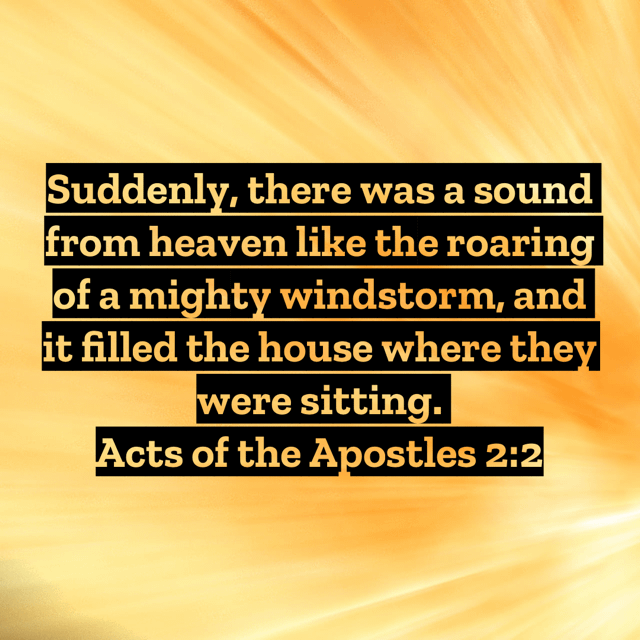 Suddenly, there was a sound from heaven like the roaring of a mighty windstorm, and it filled the house where they were sitting.

Acts 2:2
Battle Drill Daily Devotional
Read Acts 1:6-11 & 2:1-13.
Are you jealous of Jesus' disciples? Do you wish you could have been at Pentecost when the Holy Spirit descended?
Certainly, God's Holy Spirit did come upon them with power as Jesus promised. The Greek word is dunamis from where we get English words like dynamite! It must have felt like that as the roaring wind blew through the disciples and fire descended and settled on each of them. No wonder they felt dynamic that day – speaking in tongues and boldly proclaiming God's message.
Would you like God to reveal himself to you in such a recognisable way? Surely, it still happens. The Holy Spirit can and does move in this way at times. But we must be wary of forcing our expectations on God.
When Elijah needed to hear from God (1 Kings 19:10-13), this time, God wasn't in the great wind. His power wasn't in the earthquake. Fire did not symbolise his presence. God's message to and power for Elijah came in a still, small voice, a gentle whisper. And that was just as powerful as Pentecost!
God may come to you in a dramatic way. He may move powerfully and unmistakably in your life. Or he may choose to speak to you in a gentle whisper.
However God chooses to speak to you. May you be patient and listen, and may God's power enable you to witness for him in the days to come.
O breath of Life, come sweeping through us, 
Revive thy Church with life and power. 
O Breath of Life, come cleanse, renew us 
And fit thy Church to meet this hour.

2 O Wind of God, come bend us, break us, 
Till humbly we confess our need; 
Then in thy tenderness remake us, 
Revive, restore; for this we plead.

3 O Breath of Love, come breathe within us,
Renewing thought and will and heart; 
Come, love of Christ, afresh to win us, 
Revive thy Church in every part.

4 Revive us, Lord! Is zeal abating 
While harvest fields are vast and white? 
Revive us, Lord, the world is waiting, 
Equip thy Church to spread the light.

Elizabeth Ann Porter Head (1850-1936)

Used By Permission. CCL Licence No. 30158
Copied from The Song Book of The Salvation Army
Song Number 818
Think It Over
Think about the following:
How have you seen the Holy Spirit working in your life? Has it been loud and dramatic? Or gentle and still? Does it make a difference to you?
Play today's audio teaching:
Share hope, prayer and encouragement with others, by commenting and talking about it below.
Image Copyright © YouVersion
Unless otherwise indicated, all Scripture quotations are taken from the Holy Bible, New Living Translation, copyright 1996, 2004, 2007, 2015 by Tyndale House Foundation. Used by permission of Tyndale House Publishers, Inc., Carol Stream, Illinois 60188. All rights reserved.