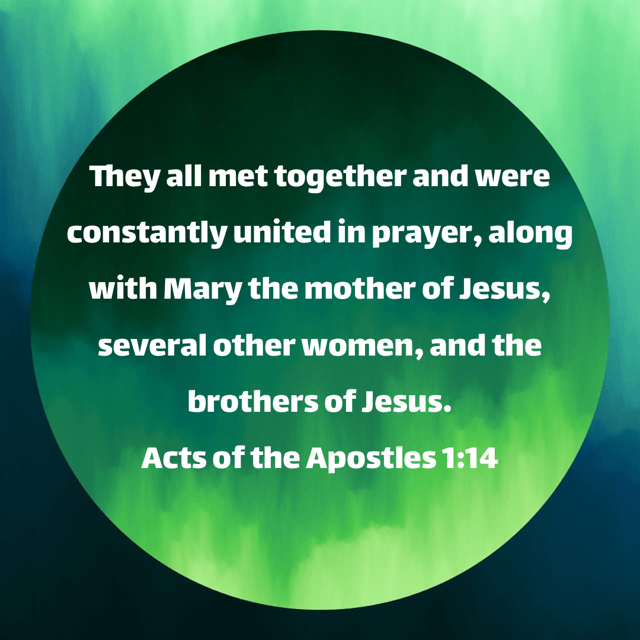 They all met together and were constantly united in prayer, along with Mary the mother of Jesus, several other women, and the brothers of Jesus.

Acts 1:14
Battle Drill Daily Devotional
Read Acts 1:6-11 & 2:1-13.
Waiting is hard, perhaps even more so in these days. What do we do when we're waiting for God to fulfil a promise? We pray.
Jesus promised his disciples the gift of his Holy Spirit. He would come in power and enable them to be his witnesses the world over. I don't know about you, but I'd be impatient if I'd received that kind of promise!
Maybe one of the reasons the disciples were found staring into the heavens as Jesus ascended before them (Acts 1:11) was that they expected and wanted Jesus' promise to be fulfilled right there and then. Jesus is gone, so surely this is the moment for the Holy Spirit to arrive?
But God's timing is always perfect. He's never late. He's always on time. We don't always understand his timing, but he does. Fortunately, the disciples, even impetuous Peter, recognise this and choose to trust God. And in the ten-day gap between Jesus' ascension and the coming of the Holy Spirit at Pentecost, they unite and pray. What an example!
As most of us begin to emerge from the year-long lockdown of the COVID-19 Coronavirus pandemic, we may feel as if we are waiting for something. Perhaps we get a sense that God is going to move mightily across the earth and in our communities as society begins to open up again.
If so, then we had better be praying! Not just as individuals, though of course that's important, but together. The Holy Spirit did not come on the disciples until they were united in prayer. Will you pray with me?
We're reaching out to you again.
We're in the upper room again.
We feel the Spirit's wave,
We're in pre-revival days.
We're kneeling on the floor again.
We're crying out for more again.
We're seeking for Your face
We're in pre-revival days.

We're looking at our lives again.
Your love has filled our eyes again.
We cherish Your embrace,
We're in pre-revival days.
We're praying for the lost again.
The hardened heart is soft again.
No one is turned away,
We're in pre-revival days.

Jesus out in front again.
Jesus on our tongues again.
We're rising up in faith
To see revival days.
We're praying for our land again.
You've stayed Your patient hand again.
This nation needs Your grace
To see revival days.

Ian White (born 1956)
© 1997 Thankyou Music/Adm. by worshiptogether.com songs excl. UK & Europe, adm. by kingswaysongs.com. www.kingswaysongs.com. Used by permission.

Used By Permission. CCL Licence No. 30158
Think It Over
Think about the following:
Who could you join together with and be constantly united in prayer, as we wait for God to pour his power on us?
Play today's audio teaching:
Share hope, prayer and encouragement with others, by commenting and talking about it below.
Image Copyright © Church Motion Graphics
Unless otherwise indicated, all Scripture quotations are taken from the Holy Bible, New Living Translation, copyright 1996, 2004, 2007, 2015 by Tyndale House Foundation. Used by permission of Tyndale House Publishers, Inc., Carol Stream, Illinois 60188. All rights reserved.