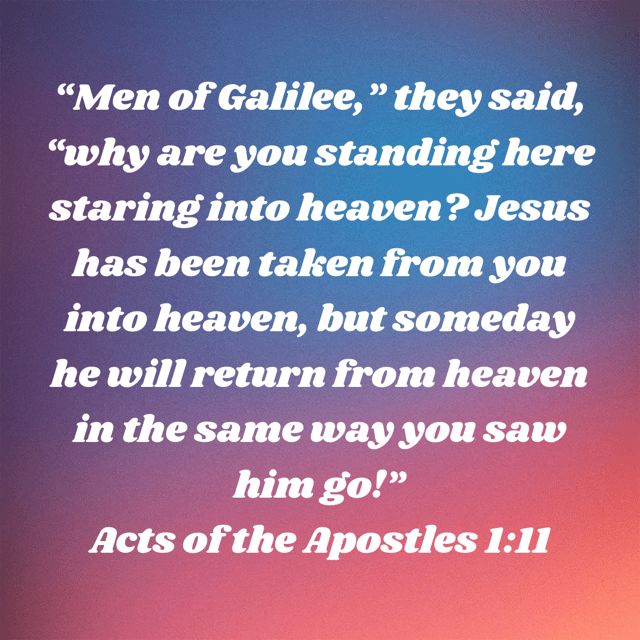 "Men of Galilee," they said, "why are you standing here staring into heaven? Jesus has been taken from you into heaven, but someday he will return from heaven in the same way you saw him go!"

Acts 1:11
Battle Drill Daily Devotional
Read Acts 1:6-11 & 2:1-13.
Have you ever been caught staring into space? Maybe at your desk? Or when you were listening to Sunday's sermon?
Jesus' disciples were caught staring into space. They'd just witnessed Jesus being taken up into a cloud and away from them again. That would make most of us stare in amazement!
But that wasn't what Jesus had commissioned them to do! He'd told them that whilst he was away, they would spread his good news to the ends of the earth. So he had to send a couple of messengers to give his disciples a nudge!
"Jesus may have left you again, but one day he'll return," they reminded the disciples. In the meantime, you have work to do!
History is moving towards a specific moment in time. We may not know when. We may not know how. But one day, Jesus will return to judge and rule over the earth. We need to be ready! It would be embarrassing to be caught by Jesus staring into space when he's commissioned us to make disciples.
His Holy Spirit will help us use the gifts God has given us to spread the good news to those around us so that they too can share in his blessings.
We are witnesses for Jesus
In the home and in the mart,
Where the cares of life and fashion
Crowd the Saviour from the heart;
When we urge his claims with wisdom
Many choose the better part;
We are witnesses for Jesus
In the home and in the mart.

Tell the world, O tell the world!
Make salvation's story heard;
In the highways, in the byways,
And in lands beyond the sea,
Do some witnessing for Jesus
Wheresoever you may be.

William Drake Pennick (1884-1944)
Used By Permission. CCL Licence No. 30158
Copied from The Song Book of The Salvation Army
Song Number 937
Think It Over
Think about the following:
When you find yourself procrastinating about sharing God's good news with someone, what gets you past staring into space?
Play today's audio teaching:
Share hope, prayer and encouragement with others, by commenting and talking about it below.
Image Copyright © SundaySocial.tv
Unless otherwise indicated, all Scripture quotations are taken from the Holy Bible, New Living Translation, copyright 1996, 2004, 2007, 2015 by Tyndale House Foundation. Used by permission of Tyndale House Publishers, Inc., Carol Stream, Illinois 60188. All rights reserved.