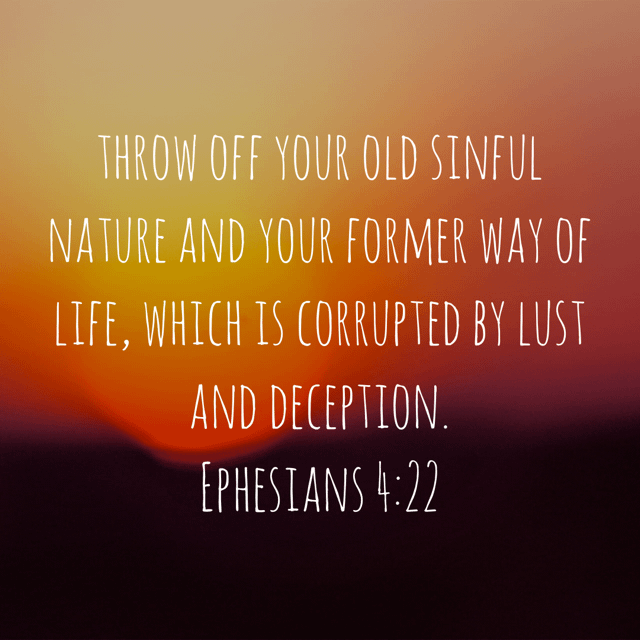 … throw off your old sinful nature and your former way of life, which is corrupted by lust and deception.

Ephesians 4:22
Battle Drill Daily Devotional
It is not enough to want to change. I can want to be more kind. I can want to be thinner. If change is going to happen, I have to make the choice to change.
Read Ephesians 4:17-32.
Change doesn't happen accidentally. It requires a decision. We have to make the choice to change. If I am going to be more kind, then I have to change the way I think about others. If I want to lose weight, I have to choose to eat less and exercise more. If I want to spend less, then I have to choose to stick to a budget. It's not going to happen otherwise.
Paul says if we are going to make changes in our lives then we have to throw off our old way of thinking. We have to lose the old things in order to put on our new selves.
If you've tried to make a change but you seem stuck in your old ways, it's possibly because you haven't yet made the choice to fully let go of your old choices and to start making new ones. We can make the choice to let them go now and trust God to work in us through the power and indwelling of his Holy Spirit to help us make the changes he desires to see in us. This is the moment:
This is God's moment,
God's moment for you;
A moment so solemn,
Yet joyous and new,
Forgiven is all sinning,
Real life is beginning,
For this is God's moment for you.

Flora Larsson (1904-2000)
© The General of The Salvation Army.
Used By Permission. CCL Licence No. 30158
Copied from The Song Book of The Salvation Army
Song Number 443
Think It Over
Think about the following:
What change in your life would you like to make? What choices do you need God to help you with to make that change?
Play today's audio teaching:
Share hope, prayer and encouragement with others, by commenting and talking about it below.
Image Copyright © Lightstock.com
Unless otherwise indicated, all Scripture quotations are taken from the Holy Bible, New Living Translation, copyright 1996, 2004, 2007, 2015 by Tyndale House Foundation. Used by permission of Tyndale House Publishers, Inc., Carol Stream, Illinois 60188. All rights reserved.