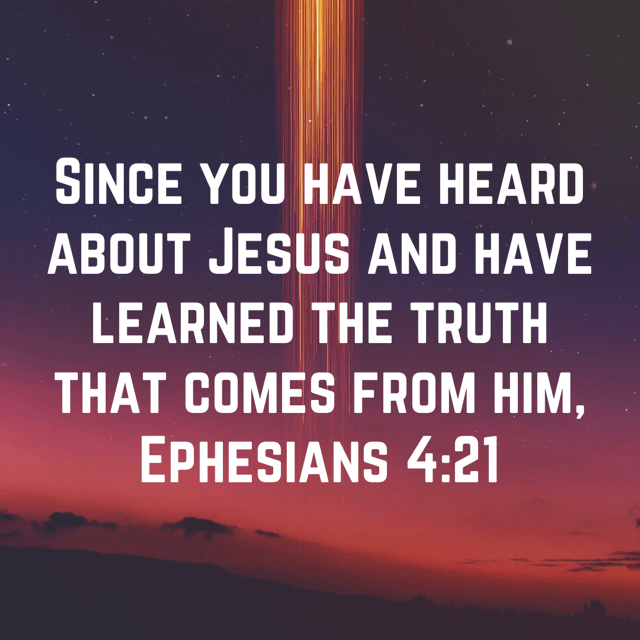 Since you have heard about Jesus and have learned the truth that comes from him …

Ephesians 4:21
Battle Drill Daily Devotional
This week we are focusing on growing in personal transformation and spiritual maturity, looking at Paul's words in Ephesians 4. You can catch up on yesterday's sermon here.
Read Ephesians 4:17-32.
Do you know how to filter out Fake News? How do we know what's true anymore?
When it comes to our bad habits, many of us are happy to believe Fake News about them. "I'm just big-boned." "I just had to have the latest gadget." "I can stop any time I want to, you know." Every bad habit we have is based on a lie – the Fake News – we have told ourselves.
Willpower isn't enough to help us break free of our Fake News and make the change we desire. And there's no point looking to the media or reading a self-help book. They cannot help with the truth you need. Instead, Paul says, in Ephesians 4:21:
Since you have heard about Jesus and have learned the truth that comes from him …

Ephesians 4:21
Only Jesus has the truth. In fact, he is the Truth. We discover Jesus and the Truth through his Word.
The Bible shows us where we need to make a change and how to rediscover our purposes in life. God's Word is what guides us to stay on the right paths and stay away from Fake News and bad habits. Spending time every day in God's Word is what leads to lasting change, because it helps us face the truth about ourselves.
Think It Over
Think about the following:
Think about a bad habit you have. What lie do you believe that keeps you doing it? What does the Bible say is true about it?
Play today's audio teaching:
Share hope, prayer and encouragement with others, by commenting and talking about it below.
Image Copyright © SundaySocial.tv
Unless otherwise indicated, all Scripture quotations are taken from the Holy Bible, New Living Translation, copyright 1996, 2004, 2007, 2015 by Tyndale House Foundation. Used by permission of Tyndale House Publishers, Inc., Carol Stream, Illinois 60188. All rights reserved.