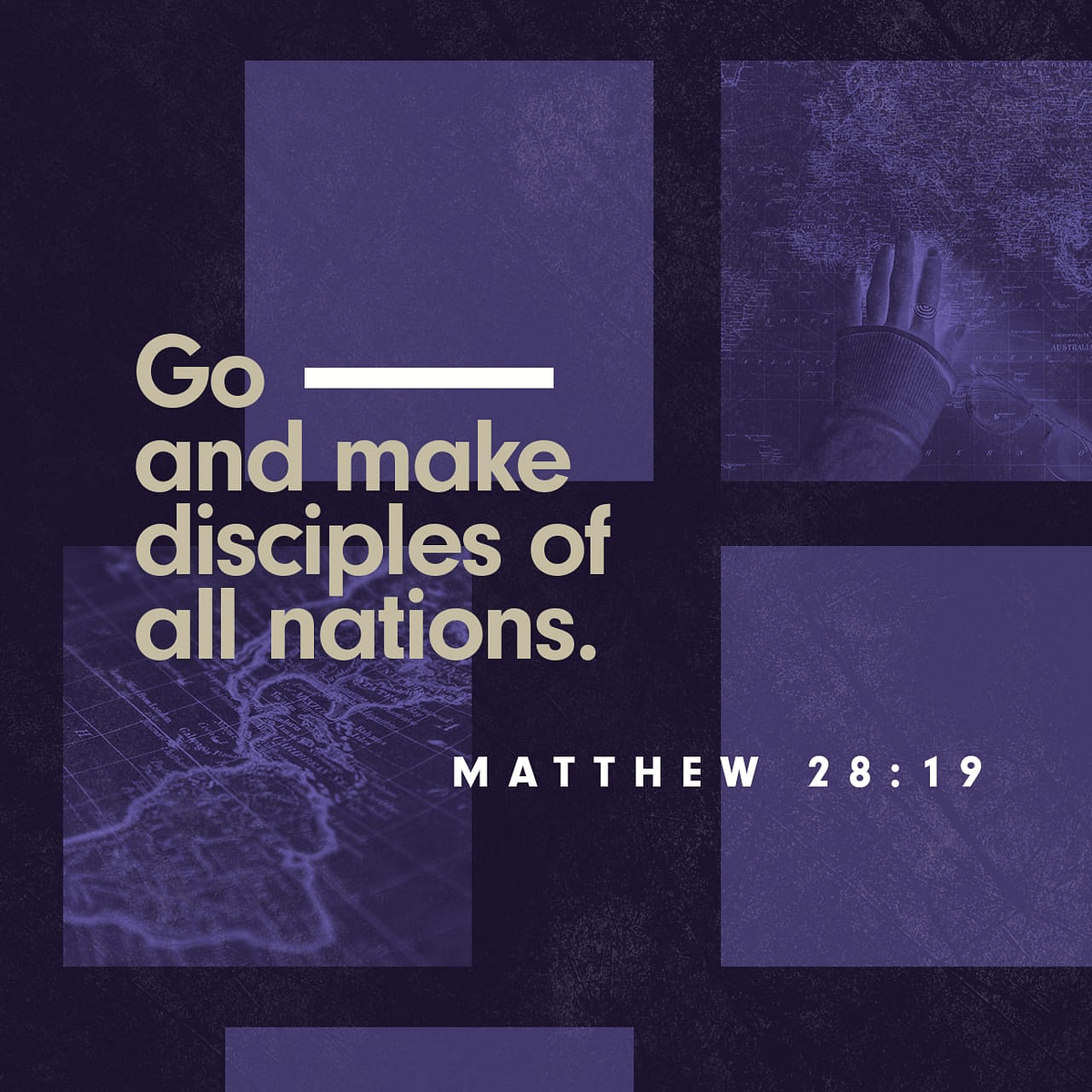 Jesus came and told his disciples, "I have been given all authority in heaven and on earth. Therefore, go and make disciples of all the nations, baptizing them in the name of the Father and the Son and the Holy Spirit. Teach these new disciples to obey all the commands I have given you. And be sure of this: I am with you always, even to the end of the age."

Matthew 28:18-20
Battle Drill Daily Devotional
Read Matthew 28:1-10 & 16-20.
When someone is dying or leaving us, his or her last words are very important.
Many famous people have said some profound things as they lay dying. I think my favourite is the request Spike Milligan made for his epitaph, "I told you I was ill!"
These words from Matthew 28:18-20 are perhaps Jesus' most important words of instructions to his followers:
Jesus came and told his disciples, "I have been given all authority in heaven and on earth. Therefore, go and make disciples of all the nations, baptizing them in the name of the Father and the Son and the Holy Spirit. Teach these new disciples to obey all the commands I have given you. And be sure of this: I am with you always, even to the end of the age."

Matthew 28:18-20
Despite everything that had gone before, they were still his followers. They were under his authority. And by the authority God had given him over heaven and earth, Jesus was commissioning them to go and make more disciples. They were to teach them to obey his words. And this mission would be worldwide. Important words, indeed!
Jesus, the one who had been raised from the dead, had the authority of God. Nothing was outside of his sovereign control. It is with this power and authority that we are to go and instruct new believers about how to follow to Jesus. It is this power and authority that gives us the ability to show them how to submit to Jesus' lordship. It is Jesus' power and authority that enables us to teach others how to live out his mission of compassionate service.
We have a job to do!
We have a gospel to proclaim, 
Good news for men in all the earth; 
The gospel of a Saviour's name: 
We sing his glory, tell his worth.

Tell of his reign at God's right hand, 
By all creation glorified; 
He sends his Spirit on his Church 
To live for him, the Lamb who died.

Now we rejoice to name him King: 
Jesus is Lord of all the earth. 
This gospel message we proclaim: 
We sing his glory, tell his worth.

Edward Joseph Burns
© Edward J. Burns.

Used By Permission. CCL Licence No. 30158
Copied from The Song Book of The Salvation Army
Song Number 155
Think It Over
Think about the following:
How can Jesus' power and authority help you to share the Good News in positive and attractive ways?
Play today's audio teaching:
Share hope, prayer and encouragement with others, by commenting and talking about it below.
Image Copyright © Roger Coles
Unless otherwise indicated, all Scripture quotations are taken from the Holy Bible, New Living Translation, copyright 1996, 2004, 2007, 2015 by Tyndale House Foundation. Used by permission of Tyndale House Publishers, Inc., Carol Stream, Illinois 60188. All rights reserved.