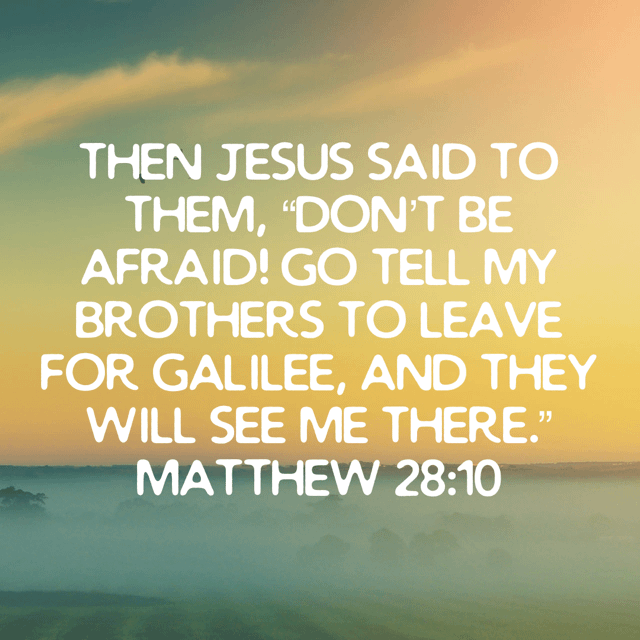 Then Jesus said to them, "Don't be afraid! Go tell my brothers to leave for Galilee, and they will see me there."

Matthew 28:10
Battle Drill Daily Devotional
Read Matthew 28:1-10 & 16-20.
Have you ever discovered a talent someone had and wondered why they'd kept it hidden?
Maybe you've walked into someone's house and discovered beautiful paintings and wondered why you didn't know they were an artist. Or perhaps you've seen a sculpture someone has made and realised you didn't know they were so skilled at manipulating wood. Perhaps it was a beautiful poem or some great sewing or dressmaking, or perhaps they sat at a piano and played wonderful music for you.
Sometimes, people keep their talents to themselves because they just don't feel good enough to reveal them.
Jesus' disciples had every reason to hide behind locked doors after he'd been taken and killed on a cross. Not only were they in fear of their own lives, but they were ashamed. Each of them – not just Peter – had promised they would never leave his side, whatever he faced. But as events unfolded in the Garden of Gethsemane after their last supper together, they each deserted him and fled for their lives. How could they spread his teaching to others as he said they would? They were simply not good enough.
But Jesus thought they were. Even though he predicted they would deny knowing him, and desert him when he needed them the most, he had already decided to forgive them! Three times his message that they would see him in Galilee again is given to them.
Jesus had not disowned nor deserted them. He gave them words of hope of renewal and forgiveness. It was the power of Jesus' presence with them and the power of his forgiveness that gave them the strength to follow his instructions and meet him in Galilee. Here, where their mission first started, it would be renewed. Once more, in the power of the resurrected Jesus, they would fish for people again.
If you ever keep quiet and keep the Good News of renewal and forgiveness to yourself because you feel you are not good enough as a witness for Christ, then this word is for you. Whatever you've done, whatever you might do today and in the future, Jesus has already decided to forgive you. And he commissions you to participate in the mission of God. Praise him!
God forgave my sin in Jesus' name,
I've been born again in Jesus' name;
And in Jesus' name I come to you
To share his love as he told me to.

He said: 'Freely, freely, you have received,
Freely, freely give;
Go in my name, and because you believe
Others will know that I live.'

Carol Owens
© 1972 Bud John Songs/EMI CMP/Small Stone Media BV Holland (admin. by Song Solutions www.songsolutions.org). 

Used By Permission. CCL Licence No. 30158
Copied from The Song Book of The Salvation Army
Song Number 459
Think It Over
Think about the following:
Do you ever wish you were a better example of a Christian to those around you? What needs to change?
Play today's audio teaching:
Share hope, prayer and encouragement with others, by commenting and talking about it below.
Image Copyright © @aussiedave
Unless otherwise indicated, all Scripture quotations are taken from the Holy Bible, New Living Translation, copyright 1996, 2004, 2007, 2015 by Tyndale House Foundation. Used by permission of Tyndale House Publishers, Inc., Carol Stream, Illinois 60188. All rights reserved.