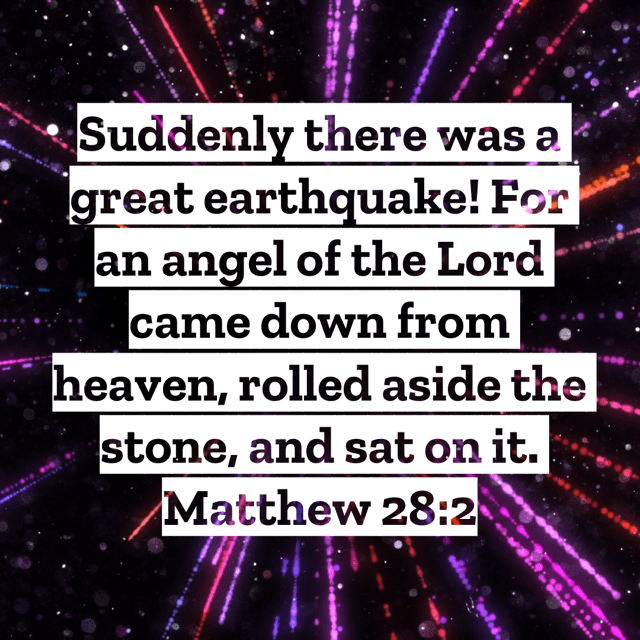 Suddenly there was a great earthquake! For an angel of the Lord came down from heaven, rolled aside the stone, and sat on it.

Matthew 28:2
Battle Drill Daily Devotional
This week we focus on how Jesus' resurrection ignites his followers to spread his message, helping us to understand our own participation in the mission of God. You can watch and listen to yesterday's sermon that kicked off our brand-new, four week series, Therefore, Go here.
Read Matthew 28:1-10 & 16-20.
From a beautiful flower, to a baby taking his or her first steps, or maybe even the latest funny cat video on YouTube, many of us will have excitedly told someone, "Come and see."
It's three days since Jesus died an agonising, literally excruciating death on a cross outside Jerusalem. He is dead, there is no doubt about it. He shouted, "It is finished!" from the cross, bowed his head, and gave up his spirit. Just to make sure, the soldiers on duty, John tells us, pierced his side with a spear.
Joseph of Arimathea, a follower of Jesus took his body, wrapped it in a long sheet of linen cloth and placed it in his own tomb. He rolled a great stone across the entrance and then left. Afraid Jesus' disciples might steal the body and then claim Jesus was alive again, the leading priests and Pharisees agreed with Pilate they would seal the tomb and post guards outside it to protect it.
But now, having arrived as the new day was dawning, Mary Magdalene and the other Mary arrive just in time to witness a great earthquake as an angel of the Lord comes down from heaven, rolls aside the stone and declares:
He isn't here! He is risen from the dead, just as he said would happen. Come, see where his body was lying.

Matthew 28:6
You see, the stone wasn't rolled aside so the resurrected Jesus could escape and get out of the tomb. It was rolled away so that others could get in and see for themselves that Jesus had indeed risen from the dead, just as he said he would!
God's invitation is still the same today: Come and see. You can check the evidence for yourself. Jesus' resurrection is an historical fact. Some may reject it. But it doesn't work like that. Jesus' resurrection is not something that can be "true for you, but not for me." Either the tomb was empty on that day, or it was occupied. There is no middle ground.
If we are ever going to grasp the life-transforming, world-changing power of the resurrection of Jesus, then we must recognise that it is a matter of objective fact rather than personal preference.
God sent his Son, they called him Jesus;
He came to love, heal and forgive;
He lived and died to buy my pardon,
An empty grave is there to prove my Saviour lives.

Because he lives, I can face tomorrow;
Because he lives, all fear is gone;
Because I know he holds the future,
And life is worth the living just because he lives.

William and Gloria Gaither
© 1971 Gaither Music Company/Adm. by Integritymusic.com, a division of David C. Cook, songs@integritymusic.com For the UK & Ireland. Used by permission. 

Used By Permission. CCL Licence No. 30158
Copied from The Song Book of The Salvation Army
Song Number 219
Think It Over
Think about the following:
When did the reality of Jesus' resurrection first "dawn" on you? What difference did it make?
Play today's audio teaching:
Share hope, prayer and encouragement with others, by commenting and talking about it below.
Image Copyright © Church Motion Graphics, Inc.
Unless otherwise indicated, all Scripture quotations are taken from the Holy Bible, New Living Translation, copyright 1996, 2004, 2007, 2015 by Tyndale House Foundation. Used by permission of Tyndale House Publishers, Inc., Carol Stream, Illinois 60188. All rights reserved.