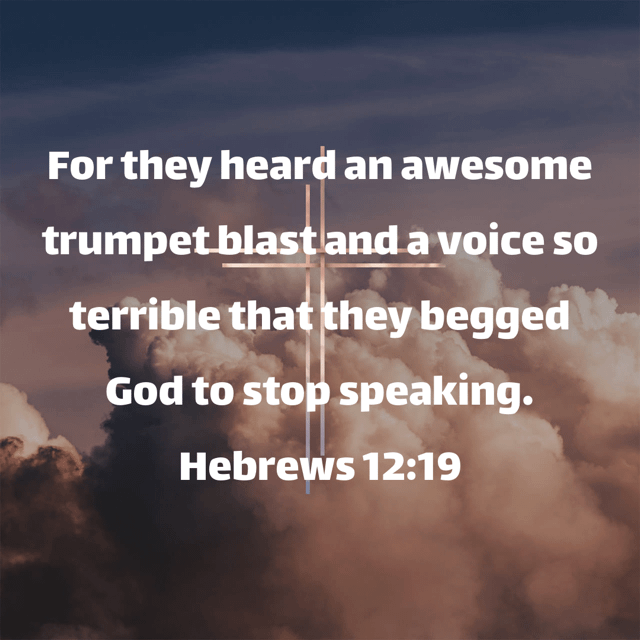 For they heard an awesome trumpet blast and a voice so terrible that they begged God to stop speaking.

Hebrews 12:19
Battle Drill Daily Devotional
Do you ever wonder if God has a split personality? He seems to speak fiercely and judgmentally one minute and then whispers incredible mercy and sacrificial love the next.
Read Hebrews 12:14-29.
When we look at Jesus, he makes a difference in our perception of God. The awesome God of power and glory and judgment – the One who spoke to the people of Israel with a voice like an awesome trumpet blast – is revealed as the same One whose throne of grace can be approached for the mercy and grace we need.
Jesus is the same God as the mighty, all-powerful God of the Old Testament. God is a God of both righteousness and love. Sometimes, we are guilty of over-emphasising his love and mercy to the exclusion of his judgment. But that is to mishear his voice and his message. Let's face it, when we stop to think of it, it would be upsetting to learn that God isn't particularly bothered about unrighteousness, injustice, cruelty and evil!
God's justice and judgment must be included in his love. He is no longer distant and threatening. Instead, we experience him with a combination of awe and reverence. He stands ready to give us a joyous welcome and we accept his invitation and join his worshipping community, wherever we are.
Ours is not a distant God, remote, unfeeling,
Who is careless of our loneliness and pain,
Through the ministry of men he gives his healing,
In their dedicated hands brings hope again.

Someone cares, someone cares,
Someone knows your deepest need, your burden shares;
Someone cares, someone cares,
God himself will hear the whisper of your prayers.

John Gowans (1934-2012)
© The General of The Salvation Army.

Used By Permission. CCL Licence No. 30158
Copied from The Song Book of The Salvation Army
Song Number 10
Think It Over
Think about the following:
When did God seem like a terrifying presence to you? When has he seemed more like a joyful welcome for you?
Play today's audio teaching:
Share hope, prayer and encouragement with others, by commenting and talking about it below.
Image Copyright © @SundaySocial.tv
Unless otherwise indicated, all Scripture quotations are taken from the Holy Bible, New Living Translation, copyright 1996, 2004, 2007, 2015 by Tyndale House Foundation. Used by permission of Tyndale House Publishers, Inc., Carol Stream, Illinois 60188. All rights reserved.