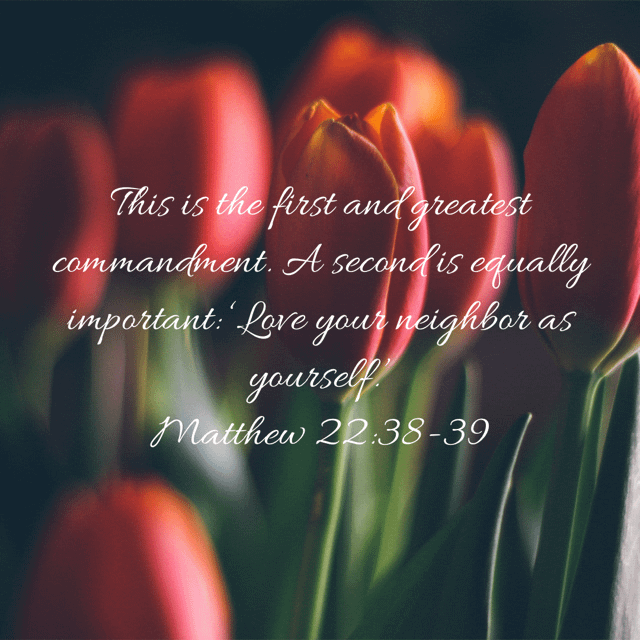 This is the first and greatest commandment. A second is equally important: 'Love your neighbour as yourself.'

Matthew 22:38-39
Battle Drill Daily Devotional
At first glance, Jesus seems to include a very 21st century concept in his command to love God and love others: love others as you love yourself.
Read Matthew 22:34-40.
The command to love others as you love yourself is right down our 21st century street! So some Christian writers will seek to advise you that cannot truly love anyone else until you can truly learn to love yourself. For example, they might argue you need to build up your own self-esteem before you can impact someone else's self-esteem in a positive way.
Unfortunately, that is the trend of modern society. As someone once pointed out, we have moved from People magazine, to Us magazine, to Self magazine! Jesus teaches us to move in the other direction! He says we move from ourselves, to us (the church) and then to the people (the world). Maybe The Salvation Army should think about changing the title of our periodical from Salvationist (which is the church) to Self-Denial!
Don't get me wrong. Jesus' command does assume a healthy level of self-love. He is thinking of the natural way we are created to look after our bodies, our minds and our souls, and to attend to our needs (rather than our wants). But he expects us to avoid the kind of self-love that is selfish, always seeking to put ourselves first before others.
If I am honest, I have to say I don't need to work hard to focus on my needs. I have to work much harder to think about loving others and loving God more than I love myself. I must constantly focus outwards rather than inwards.
Why? Because the meaning of life is to be found in loving God and loving others. It's what's at the heart of Christianity. May this message soak into our souls in the coming days. May it transform us and the world around us. Love God. Love others. There is nothing better you can do with your life.
Think It Over
Think about the following:
What's the motivation behind the ways you look after yourself and your needs?
Play today's audio teaching:
Share hope, prayer and encouragement with others, by commenting and talking about it below.
Image Copyright © Lightstock.com
Unless otherwise indicated, all Scripture quotations are taken from the Holy Bible, New Living Translation, copyright 1996, 2004, 2007, 2015 by Tyndale House Foundation. Used by permission of Tyndale House Publishers, Inc., Carol Stream, Illinois 60188. All rights reserved.