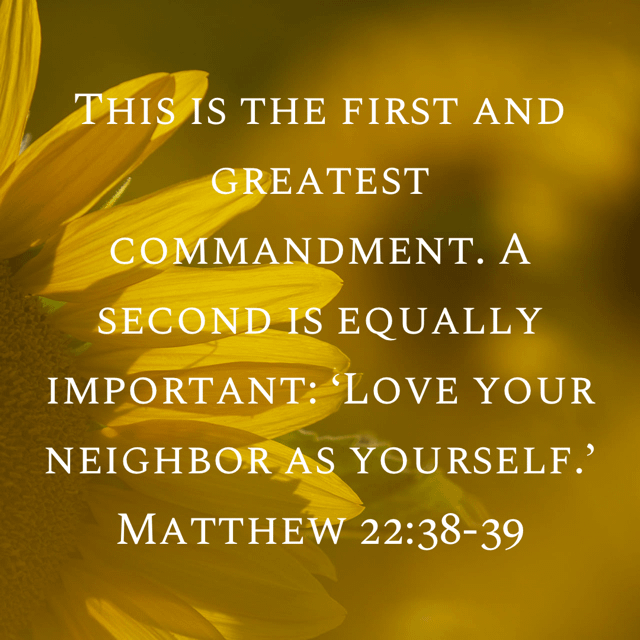 This is the first and greatest commandment. A second is equally important: 'Love your neighbour as yourself.'

Matthew 22:38-39
Battle Drill Daily Devotional
I am showing my age this week! This time an 80s cultural reference! But today, we seem to have strayed so far from what love really is, we don't really know what it is.
Read Matthew 22:34-40.
Sometimes, if you look in our families, or around our community, or watch the news, or read social media, you'd be forgiven for thinking that love is in short supply. And yet, Jesus says it's the essence of who we are as human beings. When he was asked, which is the greatest commandment, what is our first purpose in life, he said it was to love God, but then went on to say:
A second is equally important: 'Love your neighbour as yourself.'

Matthew 22:39
Some have used the shape of the cross to explain what Jesus meant. You have the vertical connection – the command to love God – and the horizontal connection – the command to love others. The two are connected. Our love for God is the motive force behind our love for others.
In giving this answer, Jesus is quoting from Leviticus in the Old Testament (Leviticus 19:18 and 19:34). In Leviticus, loving your neighbour isn't a way to fulfil your needs or to get something from someone. It isn't about feeling good about yourself, or furthering your career or about loving someone only when things are going well. Loving your neighbour, according to Leviticus, is about not harbouring anger at someone in your heart. It's about not seeking revenge when someone wrongs you in some way. It's about not bearing a grudge. It is about reasoning with them and gently correcting them when needs be.
How different would the world be if we learned to love our neighbours as ourselves? Sometimes, we are guilty of minimising loving them down to showing them a little random kindness or asking if they'd like to come to church. We feel, if we've done that, we've done our duty and obeyed Jesus' command.
But which of us can say we have truly loved this way, yet? I know I can't. In many ways, we are all beginners. We're still learners on this lifelong journey. We are utterly reliant on God's love for us and the power of his Holy Spirit to enable us to love others as we should.
I invite you to open your heart to God today, and pray this prayer of holy examination with me:
Saviour, if my feet have faltered
On the pathway of the cross,
If my purposes have altered
Or my gold be mixed with dross,
O forbid me not thy service,
Keep me yet in thy employ,
Pass me through a sterner cleansing
If I may but give thee joy!

All my work is for the Master,
He is all my heart's desire;
O that he may count me faithful
In the day that tries by fire!

2 Have I worked for hireling wages,
Or as one with vows to keep,
With a heart whose love engages
Life or death, to save the sheep?
All is known to thee, my Master,
All is known, and that is why
I can work and wait the verdict
Of thy kind but searching eye.

3 I must love thee, love must rule me,
Springing up and flowing forth
From a childlike heart within me,
Or my work is nothing worth.
Love with passion and with patience,
Love with principle and fire,
Love with heart and mind and utterance,
Serving Christ my one desire.

Albert Orsborn (1886-1967)
© The General of The Salvation Army.

Used By Permission. CCL Licence No. 30158
Copied from The Song Book of The Salvation Army
Song Number 672
Think It Over
Think about the following:
How can you show true neighbourly love to someone today?
Play today's audio teaching:
Share hope, prayer and encouragement with others, by commenting and talking about it below.
Image Copyright © Lightstock.com
Unless otherwise indicated, all Scripture quotations are taken from the Holy Bible, New Living Translation, copyright 1996, 2004, 2007, 2015 by Tyndale House Foundation. Used by permission of Tyndale House Publishers, Inc., Carol Stream, Illinois 60188. All rights reserved.