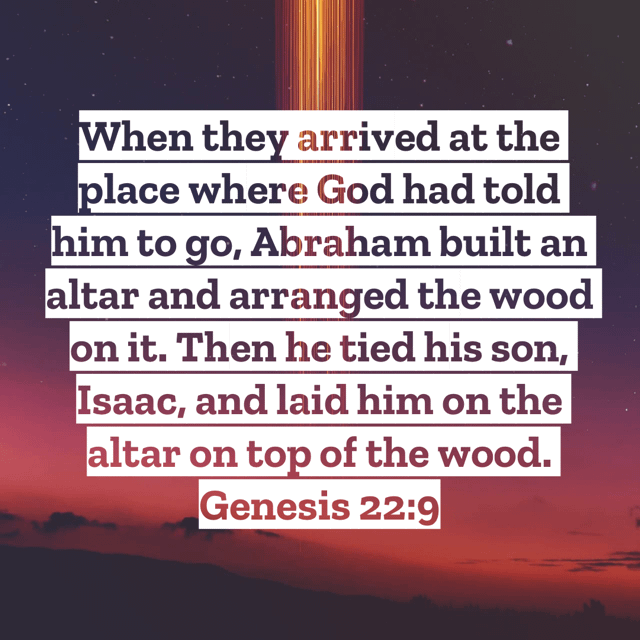 When they arrived at the place where God had told him to go, Abraham built an altar and arranged the wood on it. Then he tied his son, Isaac, and laid him on the altar on top of the wood.

Genesis 22:9
Battle Drill Daily Devotional
This week's Battle Drill daily devotionals are based on the book, At Home in Lent by Gordon Giles, published by The Bible Reading Fellowship.
Read Genesis 22:1-24.
Many Salvation Army halls, including Basingstoke's, have an altar table at the front of the hall. It has a long history as Abraham and Isaac's story reminds us.
The altar table was a place of sacrifice, not just in Jewish religion but in pagan times too. An animal or human would be ceremoniously killed as an offering to the gods. For God's people in Old Testament times there was a connection to sin: the altar table was the place to make atonement and to seek forgiveness.
In The Salvation Army, these two operations became slightly separated in that the Mercy Seat or penitent form was used to seek atonement and forgiveness. The altar table became the place where sacrifices were made holy. We are encouraged as salvationists to lay our all (or whatever, in particular, we wanted to offer) on the altar table. The history behind this is fascinating, and very much reliant on the writings of Phoebe Palmer.
Nonetheless, Isaac's terrible ordeal as told in Genesis 22, reminds us, on this Good Friday, of Jesus' sacrifice, the Lamb who redeems the world by his blood. God spares Isaac. He spares us too by substituting us for Jesus on the cross.
This year, you may not be able to see the altar table in your church building as you usually would. But every table is Christ's table. Every house therefore has an altar. As you sit at your table, perhaps to eat a meal today, on your own or with family members, may it be yet another prompt for you to thank Jesus for his ultimate sacrifice.
Think It Over
Think about the following:
Is Christ an unseen guest at your table? What does that mean for you?
Play today's audio teaching:
Share hope, prayer and encouragement with others, by commenting and talking about it below.
Image Copyright © SundaySocial.tv
Unless otherwise indicated, all Scripture quotations are taken from the Holy Bible, New Living Translation, copyright 1996, 2004, 2007, 2015 by Tyndale House Foundation. Used by permission of Tyndale House Publishers, Inc., Carol Stream, Illinois 60188. All rights reserved.