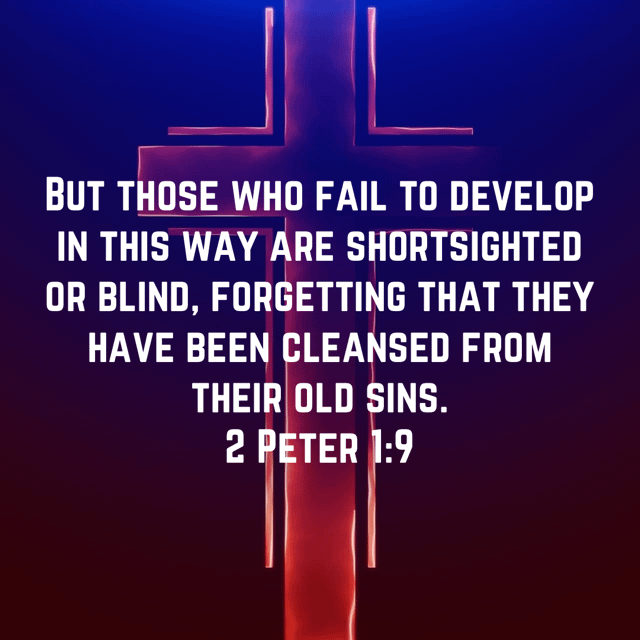 But those who fail to develop in this way are shortsighted or blind, forgetting that they have been cleansed from their old sins.

2 Peter 1:9
Battle Drill Daily Devotional
This week's Battle Drill daily devotionals are based on the book, At Home in Lent by Gordon Giles, published by The Bible Reading Fellowship.
Read 2 Peter 1:3-11.
I remember the first time the optician told me I need varifocal lenses in my glasses. I asked her if I should be worried. She replied it was just my age!
I remember thinking she only looked about 12! Was she really qualified to tell me my eyesight was deteriorating?
Of course, she was right. My eyes have been getting worse since I first had to start wearing glasses whilst I was a university student. I am sure many hours in front of a computer screen hasn't helped. But now I am at a stage where I am lost without my glasses. I cannot see anything clearly.
What I hadn't appreciated before is that there may well have been a number of people in Peter's day who were shortsighted. For them, there would have been no remedy. The idea of using lenses to correct vision doesn't seem to have appeared until the 11th century at the earliest. Peter's contemporaries had no glasses, let alone varifocal lenses!
Some people swear by supplements to improve or at least maintain good vision. Vitamins A and B2 are often suggested as good sources of support for eye health, as is cod liver oil and a plant known as Euphrasia.
Peter encourages us to supplement our faith with moral excellence, knowledge, self-control, patient endurance, godliness, affection for fellow believers and love for everyone.
If you cannot see this, says Peter, then you are spiritually shortsighted, and have forgotten that the foundation for your faith is the fact that God has cleansed you from your old sins.
As we continue our Holy Week journey towards Good Friday and beyond, it is an opportunity to remind ourselves of the sacrifice Jesus made in order to cleanse us of our sins. He can correct us of any spiritual shortsightedness and help us to see who we are in him with 20-20 vision. Let's seek his clarity and focus today.
Think It Over
Think about the following:
How might your faith-sight need correcting?
Play today's audio teaching:
Share hope, prayer and encouragement with others, by commenting and talking about it below.
Image Copyright © Church Motion Graphics Inc.
Unless otherwise indicated, all Scripture quotations are taken from the Holy Bible, New Living Translation, copyright 1996, 2004, 2007, 2015 by Tyndale House Foundation. Used by permission of Tyndale House Publishers, Inc., Carol Stream, Illinois 60188. All rights reserved.