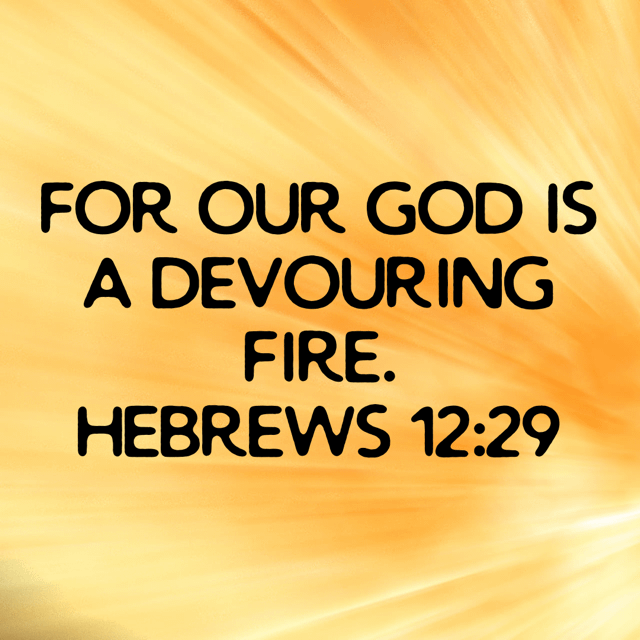 For our God is a devouring fire.

Hebrews 12:29
Battle Drill Daily Devotional
I used to love bonfire night as a child. A huge fire in the garden and a metal biscuit tin full of fireworks.
But I remember the heat from the roaring bonfire. Quite apart from the health and safety reasons, you couldn't stand to be by it for too long! You could feel your face begin to burn with the intensity of it, and you'd start to worry your eyebrows might get singed!
As we have seen in recent years as we've watched the wildfires of California, Australia and even, last summer, the New Forest, even with the most sophisticated fire-fighting equipment, devouring fires can rage beyond human control.
The writer of Hebrews reminds us that like a devouring fire, our God cannot be controlled. We cannot force him to do anything. Sometimes, we are guilty of trying to manipulate him with our prayers, but we cannot force him to do anything. He cannot be contained.
But he shows us his compassion. Often, his fire is experienced like the glow from a good, open fire in our homes. He saves us from our sin, and he will save us from death.
What will be devoured is everything temporary, worthless, sinful and imperfect. What is good, true, sacred and perfect will remain.
What's your fire for God like? Is it a devouring fire seeking to remove everything in your life that's sinful and imperfect? Or has the flame almost gone out? Pray that God's all-consuming fire will breathe into you a passion for him. Ask him to fill you anew with the fire of his Holy Spirit today:
There must be more  than this:
O Breath of God, come breathe within.
There must be more than this:
Spirit of God, we wait for You.
Fill us anew, we pray;
Fill us anew, we pray.

Consuming fire, fan into flame
A passion for Your name.
Spirit of God, fall in this place.
Lord, have Your way,
Lord, have Your way with us.

Come like a rushing wind,
Clothe us with power from on high.
Now set the captives free;
Leave us abandoned to Your praise.
Lord, let Your glory fall;
Lord, let Your glory fall.

Tim Hughes (born 1978)
© 2002 Thankyou Music/Adm. by worshiptogether.com songs excl. UK & Europe, adm. by Kingswaysongs, a division of David C Cook, www.kingswayworship.co.uk Used by permission.

Used By Permission. CCL Licence No. 30158
Copied from HymnQuest: Copyright Licence Users' Edition
HymnQuest ID: 78636
Think It Over
Think about the following:
What would you like God's fire to devour in your life?
Play today's audio teaching:
Share hope, prayer and encouragement with others, by commenting and talking about it below.
Image Copyright © YouVersion
Unless otherwise indicated, all Scripture quotations are taken from the Holy Bible, New Living Translation, copyright 1996, 2004, 2007, 2015 by Tyndale House Foundation. Used by permission of Tyndale House Publishers, Inc., Carol Stream, Illinois 60188. All rights reserved.