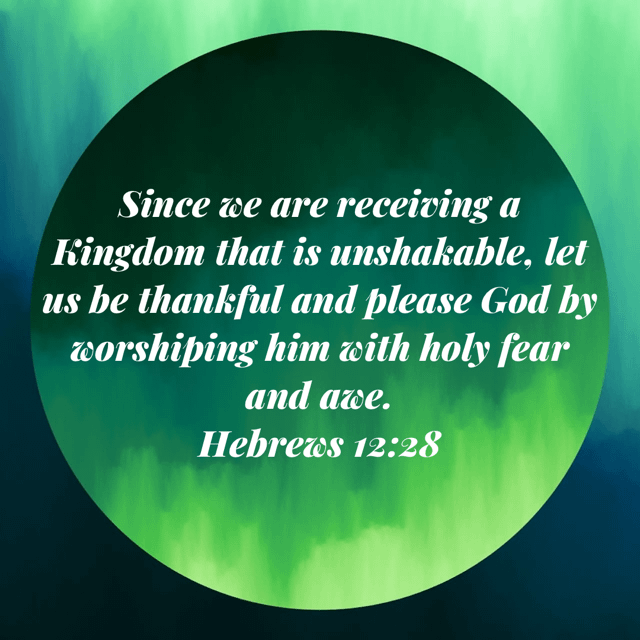 Since we are receiving a Kingdom that is unshakable, let us be thankful and please God by worshiping him with holy fear and awe.

Hebrews 12:28
Battle Drill Daily Devotional
What have you got to be thankful for today? We may be unsure about the future, but our gratitude stems from knowing it rests on a solid foundation that cannot be destroyed.
On this solid foundation, we can choose to thank God in the following five ways:
For answered prayers. God promises:
I will answer them before they even call to me. While they are still talking about their needs, I will go ahead and answer their prayers!

Isaiah 65:24
For his provision for our needs. When Paul wrote to Timothy, he reminded us:
Since everything God created is good, we should not reject any of it but receive it with thanks. For we know it is made acceptable by the word of God and prayer.

1 Timothy 4:4-5
For God's many blessings. One of my favourite verses in the Bible is:
Don't worry about anything; instead, pray about everything. Tell God what you need, and thank him for all he has done.

Philippians 4:6
For God's character and wondrous works. We echo the elders of heaven whom we will one day join:
And they said, "We give thanks to you, Lord God, the Almighty, the one who is and who always was, for now you have assumed your great power and have begun to reign.

Revelation 11:17
For our brothers and sisters in Christ. Let's join with Paul as he describes them:
Every time I think of you, I give thanks to my God. Whenever I pray, I make my requests for all of you with joy, for you have been my partners in spreading the Good News about Christ from the time you first heard it until now.

Philippians 1:3-5
Let's give God thanks with a grateful heart today!
Give thanks with a grateful heart,
Give thanks to the Holy One;
Give thanks because he's given
Jesus Christ, his Son.

And now let the weak say, 'I am strong',
Let the poor say, 'I am rich',
Because of what the Lord has done for us;

Give thanks.

Henry Smith
© 1978 Integrity's Hosanna! Music adm. by Capitol CMG Publishing worldwide excl. UK admin. by Integritymusic.com, a division of David C. Cook, songs@integritymusic.com Used by permission.

Used By Permission. CCL Licence No. 30158
Copied from The Song Book of The Salvation Army
Song Number 364
Think It Over
Think about the following:
What are you grateful to God for in particular, today?
Play today's audio teaching:
Share hope, prayer and encouragement with others, by commenting and talking about it below.
Image Copyright © Church Motion Graphics Inc.
Unless otherwise indicated, all Scripture quotations are taken from the Holy Bible, New Living Translation, copyright 1996, 2004, 2007, 2015 by Tyndale House Foundation. Used by permission of Tyndale House Publishers, Inc., Carol Stream, Illinois 60188. All rights reserved.