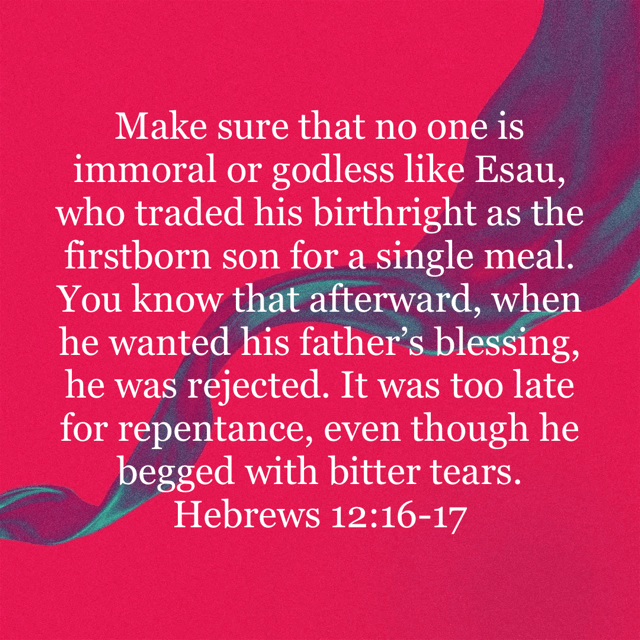 Make sure that no one is immoral or godless like Esau, who traded his birthright as the firstborn son for a single meal. You know that afterward, when he wanted his father's blessing, he was rejected. It was too late for repentance, even though he begged with bitter tears.

Hebrews 12:16-17
Battle Drill Daily Devotional
Have you ever grabbed hold of something you wanted right now, only to discover it wasn't all it was cracked up to be?
Beware the quick fix! It can have long-range effects that you can't change. The writer of Hebrews reminds us of the story of Esau from Genesis 25:29-34 & 27:36. Esau failed to follow the examples of the saints the Hebrew writer reminds his readers of in Chapter 11, who kept their eyes on heavenly rewards. Instead, he sold his birthright – the special honour of a double portion of the family inheritance and of one day becoming the family's leader – for want of a quick meal. He lost his inheritance and his leadership position, showing complete disregard for the special blessings that would have come his way if he had delayed his gratification. Nothing he could do afterwards – no repentance or regret – could ever restore what he had given up. Our decisions have consequences.
Immorality and short-term decision-making can still hurt churches and families today. The pastor who decides to start an affair rather than remain faithful to his wife. The worker who decides to cut corners to make more money. The student who cheats in her exams.
How do we make decisions day to day? Do we listen to God's voice and focus on his promises for the future, or do we listen only to the siren voices of what we must have right now? Let's be careful: some decisions we can't take back or get a second chance.
Think It Over
Think about the following:
What do you base your decision-making on? Long-term promises or short-term gains?
Play today's audio teaching:
Share hope, prayer and encouragement with others, by commenting and talking about it below.
Image Copyright © SundaySocial.tv
Unless otherwise indicated, all Scripture quotations are taken from the Holy Bible, New Living Translation, copyright 1996, 2004, 2007, 2015 by Tyndale House Foundation. Used by permission of Tyndale House Publishers, Inc., Carol Stream, Illinois 60188. All rights reserved.