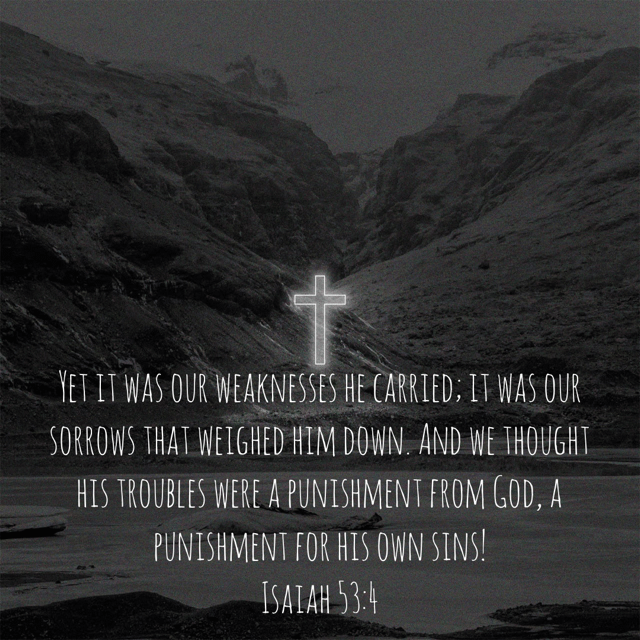 Yet it was our weaknesses he carried; it was our sorrows that weighed him down. And we thought his troubles were a punishment from God, a punishment for his own sins!

Isaiah 53:4
Battle Drill Daily Devotional
Read Isaiah 53:1-12.
I was often reluctant to tell my Mum when I was hurt. Why? Because I could tell she carried that hurt in her own heart. How much more then does Jesus carry our pain and sorrow and the world's hurts and weaknesses on the cross!
Today's passage vividly and unmistakably describes and explains the meaning of Jesus' death on the cross. Because of the depth of the love and holiness of God, Jesus chooses the path of obedience, one that led to intense pain and terrible suffering, as he bore our pain and sorrow on that tree of death.
He took our place. He was pierced because of our rebellion. He was crushed by our sins. He was beaten so we could be made whole. He was whipped so we could be healed.
On the cross, Jesus took our sin and its consequences on to himself. Jesus says to you and me, as he did the disciples at the Last Supper:
"Take this and eat it, for this is my body."

Matthew 26:26
Let's not be afraid to accept God's love for us. Jesus has done everything necessary for us. We must accept the offering. It's time to be free!
Sometimes I see thro' mists of bitter tears,
A distant hill on which a cross appears
And on that cross where I myself should be,
I see the lowly Man of Galilee.

He took my place, His life He freely gave,
Oh, boundless grace! My soul from sin to save,
He took my place upon the cruel tree,
He took the guilty sinner's place and I am free.

I cannot tell why He should love me so,
Why, for my sin, the garden anguish know;
Why He should wear a crown of thorns for me,
This holy, lowly Man of Galilee.

Oh, that my lips might speak His worthy praise,
And that my hands might serve Him all my days,
Until at last, thro' His redeeming grace,
I meet and greet the Man who took my place.

George Orlia Webster (1866-1942)
Used By Permission. CCL Licence No. 30158
Think It Over
Think about the following:
What spiritual wounds has Christ healed in you?
Play today's audio teaching:
Share hope, prayer and encouragement with others, by commenting and talking about it below.
Image Copyright © SundaySocial.tv
Unless otherwise indicated, all Scripture quotations are taken from the Holy Bible, New Living Translation, copyright 1996, 2004, 2007, 2015 by Tyndale House Foundation. Used by permission of Tyndale House Publishers, Inc., Carol Stream, Illinois 60188. All rights reserved.