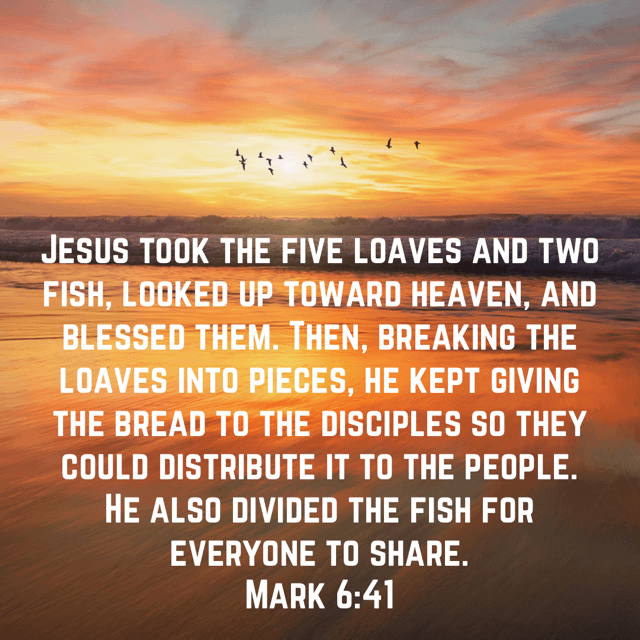 Jesus took the five loaves and two fish, looked up toward heaven, and blessed them. Then, breaking the loaves into pieces, he kept giving the bread to the disciples so they could distribute it to the people. He also divided the fish for everyone to share.

Mark 6:41
Battle Drill Daily Devotional
Read Mark 6:30-44.
Mum's picnics were legendary affairs. I remember a battered, old green hamper that came out, with proper china plates and silver cutlery. There were beautiful sandwiches, crisps (which were a treat in those days!), other snacks, cake and fruit. Every one was an event!
Mothers are generally loving, caring and feeling people. They want to look after every aspect of their children's lives. Likewise, Jesus provides this picnic to 5,000 men and their women and children, not because he wanted them to believe in him, not because he had something to teach them, but simply because "he had compassion on them" (Mark 6:34). He saw they were lost, straying from God and in grave danger, "like sheep without a shepherd." He was deeply moved, and like a mother, simply had to do something about it.
He could have sent them away, of course. But like a mother, Jesus is concerned with every aspect of our lives – the physical as well as the spiritual.
But as well as meeting their physical needs, Jesus did have something to teach his disciples. It's a lesson we must learn too. When his disciples point out the problem of a large crowd in a remote place, late in the day, needing something to eat, Jesus' response must have astounded them:
But Jesus said, "You feed them."

Mark 6:37
It is a command we cannot afford to take lightly. Jesus' compassion for the hungry is such an important lesson that it's one of those rare events that is recorded in all four gospels. For people who are desperately hungry, there is perhaps no better way to show God's love than simply to feed them. As the consequences of the current global pandemic continue to unfold, I suspect there may be many opportunities to meet people's physical needs as well as their spiritual ones, in the name of Jesus, who likewise has compassion on them.
If my Mum could provide a feast of a picnic, may I do the same to those who most need God's love.
Think It Over
Think about the following:
What excuse might you be tempted to make when God calls you to do something about the human needs in your community?
Play today's audio teaching:
Share hope, prayer and encouragement with others, by commenting and talking about it below.
Image Copyright © YouVersion
Unless otherwise indicated, all Scripture quotations are taken from the Holy Bible, New Living Translation, copyright 1996, 2004, 2007, 2015 by Tyndale House Foundation. Used by permission of Tyndale House Publishers, Inc., Carol Stream, Illinois 60188. All rights reserved.