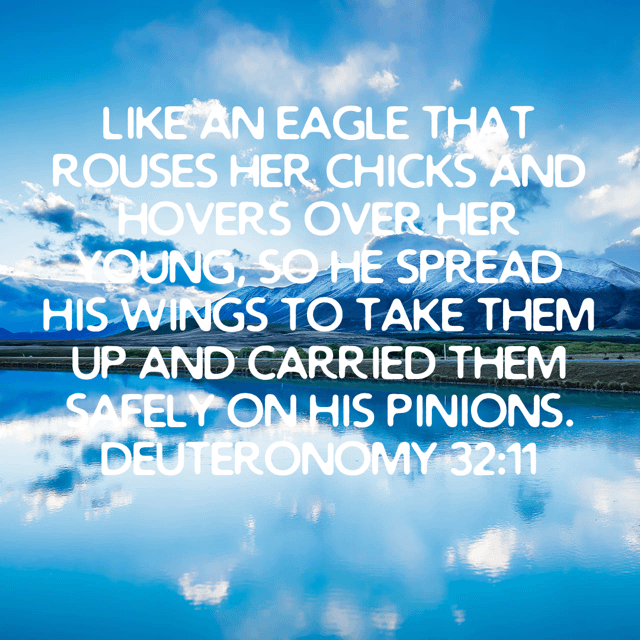 Like an eagle that rouses her chicks and hovers over her young, so he spread his wings to take them up and carried them safely on his pinions.

Deuteronomy 32:11
Battle Drill Daily Devotional
Our thoughts about God are dominated by him as father. Images of a God who nurtures and cares for us, who holds us, grieves with us and laughs with us are less common. As we head towards Mothers' Day (in the UK) this week, we consider the ways in which God is like a mother to us. As always, you can catch up with the sermon from our worship meeting yesterday here.
Do you remember running into your Mum's arms when something had scared you? Can you recall the comfort and security you felt when you reached her and she flung her arms around you to protect you?
Deuteronomy 32:9-18 is part of the great Song of Moses, composed as he was coming to the end of his life and as the children of God prepared to cross into the Promised Land.
In it, Moses paints a picture of a God who mothers us. Moses reminds God's children that as they journeyed through the barren and dangerous Sinai desert on to the Promised Land, God "found" them and seeing they were vulnerable, surrounded, watched over and guarded them. He calls them the apple of his own eyes.
The theme of God's mothering love and care for his children continues, as Moses conjures up the image of an eagle spreading her wings and taking hold of the eaglet, carrying them away to safety. When the Israelites reach the Promised Land, it will be God who deserves the credit.
Moses goes on to remind his people that God has fed them in the desert, providing food spontaneously from the rocks. He provides food through livestock, from both the animals themselves and what they produce.
Sadly, Moses' Song ends with him calling God's children out for forgetting the God who mothers them, exclaiming:
You were unmindful of the Rock that bore you; you forgot the God who gave you birth.

Deuteronomy 32:18 (NRSV)
God our Mother gives us many blessings. Many of us can look back to times of material wealth or success. We can remember times when God protected us, when he has kept us safe and provided for us. Let's ensure that whilst we enjoy these blessings, we don't make light of God. Let's not become soft and entitled. May God's blessings draw us closer to him rather than turn us away from him.
Think It Over
Think about the following:
What kind of mother is God to you? What kind of child are you?
Play today's audio teaching:
Share hope, prayer and encouragement with others, by commenting and talking about it below.
Image Copyright © @curtissimmons
Unless otherwise indicated, all Scripture quotations are taken from the Holy Bible, New Living Translation, copyright 1996, 2004, 2007, 2015 by Tyndale House Foundation. Used by permission of Tyndale House Publishers, Inc., Carol Stream, Illinois 60188. All rights reserved.