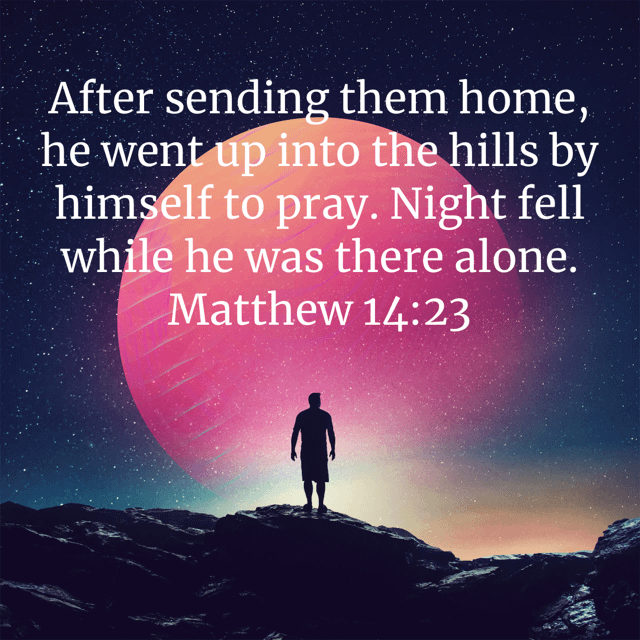 After sending them home, he went up into the hills by himself to pray. Night fell while he was there alone.

Matthew 14:23 (NLT)
Battle Drill Daily Devotional
Where is Jesus in all this? He seems to have abandoned me when I needed him the most. Have you ever thought that? The account of the disciples caught in a storm on the Sea of Galilee promises that's not the case.
There must have been moments when the disciples were battling the wind and the waves, far from the shores of Lake Galilee when they thought, Why isn't Jesus here? Why did he insist we get in the boat and make our way to the other side? Didn't he know there was going to be a storm? Why has he abandoned us when we need him the most?
But Matthew tells us Jesus hadn't abandoned them at all:
After sending them home, he went up into the hills by himself to pray. Night fell while he was there alone.

Matthew 14:23 (NLT)
Jesus knew there would be a storm and he was praying for his disciples. Jesus is God in human form, and so he knows the past, the present and the future. He was praying about the storm even before the winds started picking up.
Jesus had prayed for us and all that we've faced in the past year long before the first case of COVID-19 was discovered. He's prayed for what we'll go through this year too. He's praying we'll make it through whatever storms we face.
The Bible says that no matter what life storms you are going through at the moment, Jesus is praying for you. He loves you. He is for you. If you trust him as your Saviour, he is interceding for you right now.
Think It Over
Think about the following:
What would you ask Jesus to pray for you today?
Play today's audio teaching:
Share hope, prayer and encouragement with others, by commenting and talking about it below.
Image Copyright © YouVersion