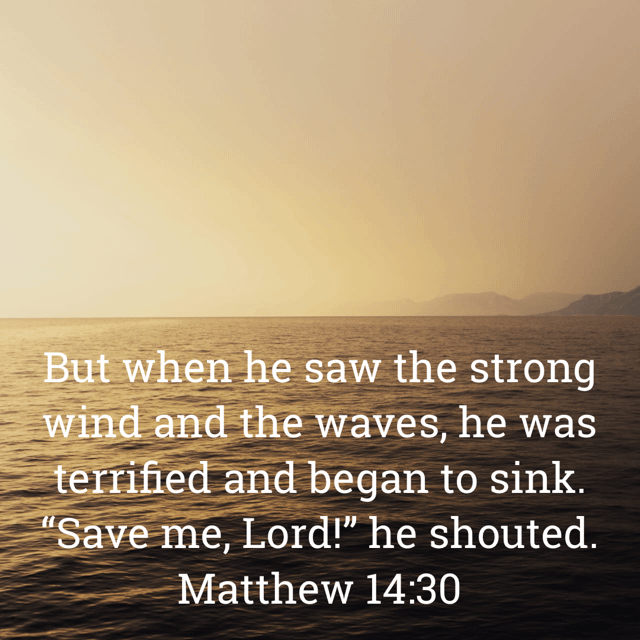 But when he saw the strong wind and the waves, he was terrified and began to sink. "Save me, Lord!" he shouted.

Matthew 14:30 (NLT)
Battle Drill Daily Devotional
When you look around you, what do you see? A rampant virus? Failing health? A difficult economic outlook? A shrinking job market? A generation falling behind in education? Jesus says, look at me instead.
Only Peter had the faith to step out of the boat. Physics tells us that a grown man could not walk on water. But Peter did. Often, we move so quickly to focusing on his sinking that we forget to pause and note: PETER WALKED ON WATER.
So, what went wrong? Peter took his eyes off Jesus. The moment he looked away from Jesus and looked at the circumstances around him – the wind and the waves – he began sinking:
But when he saw the strong wind and the waves, he was terrified and began to sink. "Save me, Lord!" he shouted.

Matthew 14:30 (NLT)
When we focus on our circumstances – whatever they are – we start to sink. If you want to walk about the storms of life, you have to keep your eyes fixed on Jesus:
If you look at the world, you'll be distressed; if you look within, you'll be depressed; if you look at Christ, you'll be at rest.

Pastor Rick Warren
If your focus is on your circumstances and you've lost sight of Jesus, then pray this prayer with me today:
Saviour of light, I look just now to thee;
Brighten my path, so only shall I see
Thy footprints, Lord, which mark the way for me;
Light of my life, so surely thou wilt be,
O man of Galilee!

Lord of my life, I dare step out to thee
Who stilled the waves and stayed the tossing sea;
When floods o'erwhelm, my safety thou wilt be;
When nightfall comes, O Lord, abide with me;
O man of Galilee!

O man of Galilee,
Stay with and strengthen me;
Walk thou through life with me,
O man of Galilee!

Robert Hoggard (1861-1935)

Used By Permission. CCL Licence No. 30158
Copied from The Song Book of The Salvation Army
Song Number 274
Think It Over
Think about the following:
What helps you focus on Jesus in the storms of life?
Play today's audio teaching:
Share hope, prayer and encouragement with others, by commenting and talking about it below.
Image Copyright © YouVersion