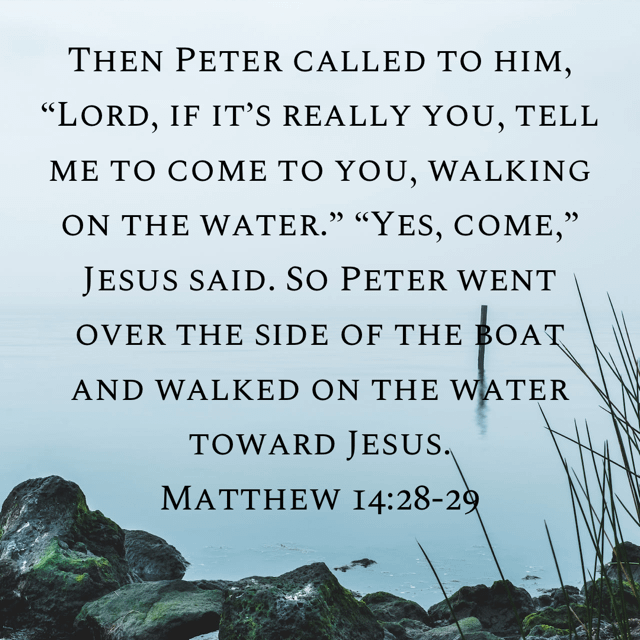 Then Peter called to him, "Lord, if it's really you, tell me to come to you, walking on the water." "Yes, come," Jesus said. So Peter went over the side of the boat and walked on the water toward Jesus.

Matthew 14:28-29 (NLT)
Battle Drill Daily Devotional
Have you ever been water skiing? Or surfing? Or ice skating? It takes courage to step on the water, or to catch a wave and let it take you, or to step onto the ice rink. I've only ever attempted the latter and fallen flat on my face!
But if you're going to achieve any of those things, you have to take the step of faith at some point. There's no point in standing on the shore with water skis on. You have to get out on the water. A surfboard might make a fashion statement, but it's of little use unless you're going to plunge into the ocean and surf the waves. Ice skates make terrible shoes! You have to get out on the ice.
Sometimes, God uses the storms of life to encourage us to take a step of faith. If my line of legal work hadn't changed beyond all recognition, I might still not be a Salvation Army officer. And being made redundant probably pushed me to make the right decision to obey God's calling rather than prevaricating over whether I should or not.
Peter would never have attempted to walk on water had it not been for the storm. The storm caused him to react in faith and to experience a special outpouring of God's power.
If you feel you're in a storm at the moment, pause and ask God what he wants you to do. And be willing to do it. It's time to get out of the boat!
Oft have I heard thy tender voice
Which calls, dear Lord, to me,
And asks a quick yet lasting choice
'Twixt worldly joys and thee;
It stirs my heart's deep fountain springs
And breaks the barriers down;
It bids me rise on faith's strong wings
And cries: No cross, no crown!

2 And yet, alas! a storm-tossed sea
Of care and doubt and fear
Still parts me, Saviour Lord, from thee,
Although thou art so near.
O speak again and bid me come,
From every fear set free,
In spite of self and sin and storm,
Upon the waves to thee.

3 O Lord, I dare to trust in thee,
Who maketh all things new,
My sins to slay, my tears to stay,
My sorrows to subdue;
And in the battle's blazing heat,
When flesh and blood would quail,
I'll fight and trust, and still repeat
That Jesus cannot fail.

Bramwell Booth (1856-1929)

Used By Permission. CCL Licence No. 30158
Copied from The Song Book of The Salvation Army
Song Number 619
Think It Over
Think about the following:
Where is Jesus inviting you to step out of your comfort zone and "walk on water?"
Play today's audio teaching:
Share hope, prayer and encouragement with others, by commenting and talking about it below.
Image Copyright © @aussiedave