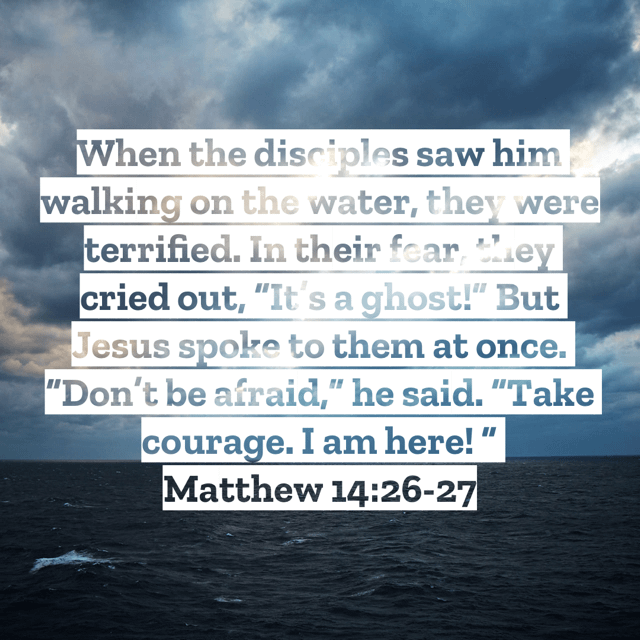 When the disciples saw him walking on the water, they were terrified. In their fear, they cried out, "It's a ghost!" But Jesus spoke to them at once. "Don't be afraid," he said. "Take courage. I am here!"

Matthew 14:26-27 (NLT)
Battle Drill Daily Devotional
Have you ever thought you'd seen a ghost? I'm not sure I have, although I do remember when we were teenagers at Norwich Citadel Salvation Army frightening ourselves silly with stories of the "ghosts" that wandered around that old building! Only peer pressure kept us standing firm and not running out of the door!
At the moment, there's probably enough going on in your life that you don't need to be frightened by ghosts! But what stops us from running away from the storms of life we find ourselves in?
Only Jesus.
When the disciples saw him walking on the water, they were terrified. In their fear, they cried out, "It's a ghost!" But Jesus spoke to them at once. "Don't be afraid," he said. "Take courage. I am here!"

Matthew 14:26-27 (NLT)
The disciples were fighting exhaustion. They're trying to keep a low profile following Herod's murder of John the Baptist. They're recovering from the responsibility of trying to feed five thousand men and their women and children in the remote area on the shore of Galilee to where Jesus had led them. And they'd been fighting the wind and waves for several hours.
Jesus comes to them. But he comes walking on the water. It is unexpected. Impossible. No wonder they thought they'd seen a ghost! They were terrified. But Jesus says, Don't be afraid. I am here.
Do you need to hear those words today? Don't be afraid. Jesus is here. He brings unexpected help and encouragement just at the time you are most desperate. In his presence, fear is gone. Take courage in him today.
In Your presence there is comfort
In Your presence there is peace
When we seek the Father's heart
We will find such blessed assurance
An ever-open door
To know our Saviour more
In the presence of our Lord

CCLI Song # 18589
Dick Tunney | Melodie Tunney
© 1988 Dick And Mel Music (Admin. by Brentwood-Benson Music Publishing, Inc.)
Universal Music – Brentwood Benson Publishing (Admin. by Brentwood-Benson Music Publishing, Inc.)
Pamela Kay Music (Admin. by Capitol CMG Publishing)
CCLI Licence No. 30158
Think It Over
Think about the following:
How would you have reacted to seeing someone walk on water in the middle of a storm?
Play today's audio teaching:
Share hope, prayer and encouragement with others, by commenting and talking about it below.
Image Copyright © Lightstock.com