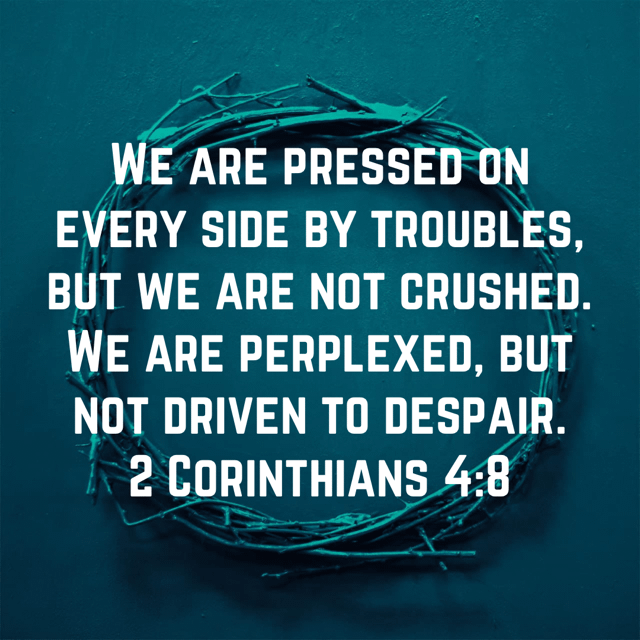 We are pressed on every side by troubles, but we are not crushed. We are perplexed, but not driven to despair.

2 Corinthians 4:8 (NLT)
Battle Drill Daily Devotional
Do you feel at the end of your rope as you read or listen to this? We may be suffering or feeling disappointed, but we are not at the end of our hope! God still reigns.
This third lockdown has driven many people to their end of their rope. Many people have died, and we are beset by grief and mourning. This time around, perhaps more than last, more of us know people who have died or been very ill from COVID-19. Families are juggling work, rest, play and homeschooling. Some are worried about their finances and job security. Many continue to live in fear of this virus as it mutates and spreads.
This world may seem fragile and teetering on the edge. Our own bodies are subject to sin and suffering. But God never abandons us. We need never lose hope. Christ has won the victory over death and we can have eternal life. In his power, we can overcome anything!
Paul faced opposition, slander and disappointment in his ministry. By human standards, he wasn't very successful in his lifetime. But he refused to let his suffering stop him from doing what God had called him to do. He didn't understand it all, but he didn't give in to despair.
Because he relied on God's strength and refused to lose hope, God worked through him in a mighty way and used him to impact countless lives for Christ. We're still reading and learning from his words today!
Whatever threatens to rob you of victory today, remember no one can destroy what God has accomplished, and continues to accomplish through you. Be encouraged:
Have you ever been down
Looking up with no hope
Sittin' on the bottom
At the end of your rope
There's never been a better time
To call on God's name
So stand up and speak to the mountain
And march on in faith

There's never been a mountain
That the Lord could not move it
There's never been a single thing
That God could not do it
Just when you think
You've fin'lly reached the end
There's gonna be a vict'ry
Like there's never been

CCLI Song # 2444381
John Darin Rowsey | John Starnes | Niles Borop
© 1996 Centergy Music (Admin. by BMG Chrysalis US) Niles Borop Music (Admin. by ClearBox Rights, LLC)
CCLI Licence No. 30158
Think It Over
Think about the following:
Are you more concerned about your physical wellbeing or your spiritual wellbeing?
Play today's audio teaching:
Share hope, prayer and encouragement with others, by commenting and talking about it below.
Image Copyright © SundaySocial.tv