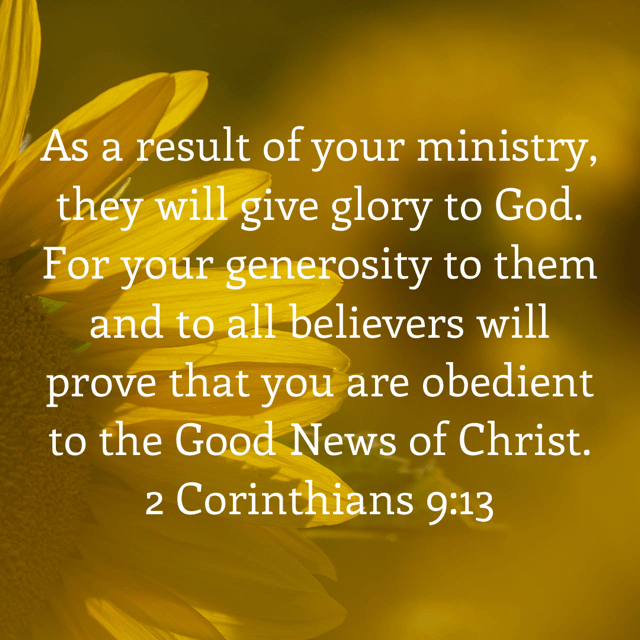 As a result of your ministry, they will give glory to God. For your generosity to them and to all believers will prove that you are obedient to the Good News of Christ.

2 Corinthians 9:13 (NLT)
Battle Drill Daily Devotional
How does your neighbour know you are a Christian? Paul suggests one of the best ways people can tell we're followers of Jesus is in how we give.
Giving generously, sacrificially and cheerfully is a sign that we are genuinely following Jesus' example and direction. It shows that our hearts have been cleansed of self-interest. It is proof that we are growing a servant heart after our Saviour's own heart.
And Paul says that such giving will lead to thanksgiving to God himself. As those in need receive our gifts, they will raise their voices in praise and thanksgiving to God. When we opt-out of giving, we opt out of the privilege of meeting human need and the honour of promoting God's glory.
A time of self-denial can be a way we can ensure, with God's help, that self-interest isn't creeping back into the way we live. And as we give to our Partners in Mission throughout The Salvation Army world then our brothers and sisters will thank God and the good work that comes from our monetary gifts will bring glory and honour to our Heavenly Father.
As God works in our hearts as we deny ourselves to meet the needs of our brothers and sisters may we each be encouraged by him to give readily, generously and cheerfully in recognition of his immeasurable grace to us.
God of self-denial, 
gardener supreme,
you place us at the centre, 
feed us, equip us and, 
having provided for us,
look to a great harvest—
a fruitfulness of lives
in service to you 
and others.
God of self-denial,
feed us
prune us
harvest us
that our lives 
might bring glory to you.

Copyright © John Birch (adapted RWP)
Think It Over
Think about the following:
During this time of self-denial, what you will give up to ensure God is enthroned in your heart?
Play today's audio teaching:
Share hope, prayer and encouragement with others, by commenting and talking about it below.
Image Copyright © LightStock.com