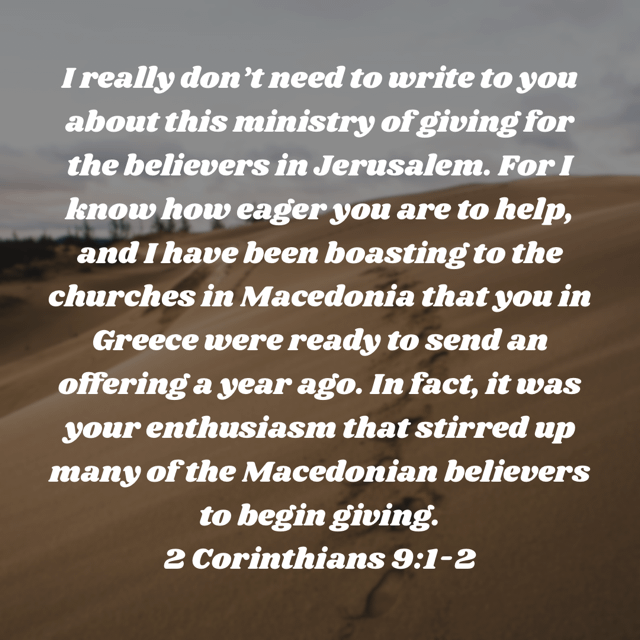 I really don't need to write to you about this ministry of giving for the believers in Jerusalem. For I know how eager you are to help, and I have been boasting to the churches in Macedonia that you in Greece were ready to send an offering a year ago. In fact, it was your enthusiasm that stirred up many of the Macedonian believers to begin giving.

2 Corinthians 9:1-2 (NLT)
Battle Drill Daily Devotional
This week we are focusing on 2 Corinthians 9:1-15, as we look at Paul's encouragement to give generously. You can catch yesterday's sermon on our passage here.
Many of us sharing this devotional are "middle milers," in the middle of the Christian race. It's a place often less thrilling than the start of the race or reaching the end. It requires stubborn determination to keep going. We need motivation to persevere. And sometimes, we need a prod to rediscover our enthusiasm for doing the right thing.
The Corinthian Christians were initially enthusiastic about contributing to the collection for their brothers and sisters in Jerusalem. In fact their willingness to do so had encouraged the Macedonian church to do the same. But now Paul is worried. The Corinthian collection has not yet been sent. Has their enthusiasm for it waned? In these two verses, Paul gives them a little prod to rekindle it.
Perhaps there are times we need to be reminded of God's ways. We know – indeed we are eager – to be generous as our Heavenly Father is generous. But as middle milers, sometimes we can forget this principle for living. May Paul's encouragement be encouragement for us all!
Think It Over
Think about the following:
How do you decide what to give, and to whom?
Play today's audio teaching:
Share hope, prayer and encouragement with others, by commenting and talking about it below.
Image Copyright © Zak Shelhamer